Posted by Elena del Valle on October 23, 2006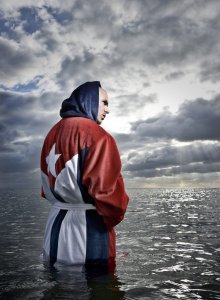 Pitbull
Photo: TVT Records
Cuban American rapper Armando Perez "Pitbull" takes on a political approach for his second studio album, "El Mariel," scheduled for an October 31 release. According to promotional materials, in the new album he describes the image of Cuba and focuses on President George W. Bush's war efforts. The album is a far cry from his previous work as the bilingual hip-hop artist tries to prove that his songs are more than just about getting dirty.
"They have this misconception," said Pitbull, 25. "They'll say, 'He's just this Latin rapper, he's a reggaeton act, he's crunk.' They don't know what to say about me. [After El Mariel] a lot of folks are gonna start saying, 'You gotta watch out for that boy Pit.'"
"El Mariel" is named after the Cuban boatlift that relocated almost 125,000 Cubans to Miami, Florida. The album contains rap ballads and club bangers. Pitbull's aim for the album is to educate his listeners regarding this event. The artist's life parallels that of some of those who came in the 1980 boatlift.
"Some [Marielitos] yes were criminals, some came from a negative background, but you have those who became politicians, lawyers, judges, and doctors, you name it," said Pit. "Now that I got my foot in the door it's time to take opportunities like the Marielitos did."
Pitbull was born to Cuban immigrants and was raised by a single mother in Miami who worked three jobs. His childhood consisted of frequent relocations and he wasn't reacquainted with his father until he was 18. The two were on friendly terms until his father's passing last year.
In 2005, Pitbull surpassed gold status for the sale of more than 500,000 copies of his debut album, "M.I.A.M.I.: Money Is A Major Issue," released in the United States in 2004. Aside from the "El Mariel" album, the artist will debut his first full-length Spanish only album, "Armando," in 2007. He is also scheduled perform at the Latin Grammy Street Party in New York, and will do the voice of one of the characters in the upcoming video game, "Scarface: The World Is Yours," based on the 1983 film. — Sergio Carmona
To listen to "Ay Chico" from "El Mariel" click on the play button below.

Click the button to hear the podcast: