Posted by Elena del Valle on October 6, 2006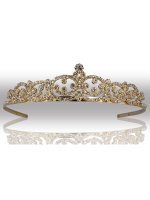 GoldLeaf Jewelry tiara and pendant for quinceañeras
Photos: GoldLeaf Jewelry
A Quinceañera, the Hispanic equivalent of a Sweet Sixteen celebration, can be the most memorable day in a young woman's life. The preparations for it however, can be as stressful as a wedding. They can affect mothers reliving their childhood, fathers worried about losing their little girls and teenagers expected to be perfect and beautiful on their special day.
GoldLeaf Jewelry is attempting to take some of the stress away by offering for sale traditional tiaras, rosaries, and charms to help young Latinas celebrate their 15 birthday. The jeweler, one of several offering Quinceañera jewelry, specializes in 14K gold, with prices ranging from $100 to $700. The company works with more than 100 manufacturers from four continents to obtain quality materials.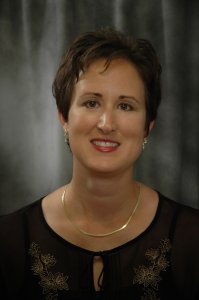 Renada Dukalskis
"Throughout my research it became clear to me that not only could GoldLeaf meet a market need as a place where girls could go online for beautiful, traditional, high-end Quinceañera jewelry but that we could also become a leader in a segment where there isn't one," said Renada Dukalsis of GoldLeaf Jewelry.
Robert and Renada Dukalskis, a father-daughter team from Oregon, founded an online store specializing in jewelry for coming of age celebrations. Robert, who has many years of retail experience, focuses on the logistics of the company. Renada handles the marketing. After years of marketing experience she is centering her attention on the growing family business. The company will donate a portion of sales to the MS Foundation for Women, a non-profit organization focusing on women's issues. — Melissa Gonzalez