Posted by Elena del Valle on September 26, 2006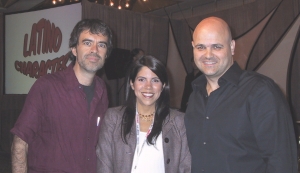 Conference panelists Paco Olavarrieta, president and creative director, OLE; Gustavo de Mello, vice president and strategic planning director, Lapiz USA; and Ida Chacon, manager, Ethinic Marketing Capabilities, Procter and Gamble
Photos: Elena del Valle
The Association of Hispanic Advertising Agencies (AHAA) held its 21st Semi-Annual Conference in Miami September 19-21, 2006. During the event, hundreds of advertisers listened to presentations about Hispanic advertising and the nature of Latino identity.   On Wednesday, Carl Kravetz, chairman, AHAA dedicated an hour to "A New Latino Identity." Immediately after his presentation five panelists shared their insights on the topic during "Putting Identity to Work" in a standing room only session. 
A second panel of six continued the discussion in the afternoon during the "Ask a Latino" session. The following morning the Latino identity discussion was furthered by another panel during "Judges of Character." "Latino Characters: Drawing the Line" focused on El Hijo del Santo and Baldo. From 11:30 a.m. to 12:30 p.m. six panelists and a moderator discussed "Rewarding Identity." The final panel group met on the afternoon of September 21 to discuss country specific issues during "Not so Secret Identities."
Conference attendee Samantha Balassa
"I liked the sense of 'unionship'," said Samantha Balassa, a representative of Motive, a New York music production company. "It feels like everyone is part of this one group and that is great about this conference."
Lunch meetings during the two-day conference were dedicated to account planning, youth creativity awards and the Eduardo Caballero Lifetime Achievement Award. The 8th Annual Advertising Age Hispanic Creative Advertising Awards were presented during the closing gala.
Advertising veterans and first time attendees mingled in the hallways and meeting rooms. Exhibit booths peppered the entrance area for the main meeting room with exhibits for American Airlines, Diario La Estrella, MegaTV/Spanish Broadcasting System, Geoscape, Rumbo, and TransitTV among others.