Posted by Elena del Valle on September 18, 2006
 Click here to sponsor a HispanicMPR.com podcast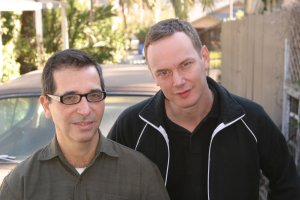 Richard Glatzer and Wash Westmoreland
Photo: Sony Pictures Classics
A podcast interview with Richard Glatzer and Wash Westmoreland, directors and writers, "Quinceañera" is available in the Podcast Section of Hispanic Marketing & Public Relations, HispanicMPR.com. During the podcast, they discuss the movie and their efforts to capture the Latino audience with Elena del Valle, host of the HispanicMPR.com podcast.  
Over the past few years, Richard has strived to establish himself as an indie filmmaker while simultaneously producing some of televisions's reality hits.  His first feature film "Grief" (1994) broke new ground by treating the AIDS crisis with depth and unexpected humor.  "Grief" played in competition at Sundance and won top prizes at the San Francisco Frameline Festival and the Torino Festival. 
Richard originally intended to become an academic. He received a Ph.D. in American Literature from the University of Virginia and edited a book of essays about Frank Capra.  His television career includes MTV's "Osbournes", "Road Rules," and "Tough Enough."  Richard, Tyra Banks and Ken Mok created the reality program "America's Next Top Model," now in its sixth season.  He is a Life Master tournament bridge player.
Wash has made several documentaries, features and TV shows.  In 2004, he went undercover, leaving his political affiliations at the door, to write and direct a film about the tormented "Gay Republicans" that won the Audience Award for Best Documentary at the AFI Festival and is now available on DVD.
Hailing from Leeds, England, Wash earned his college degree in Politics at the University of Newcastle-upon-Tyne, immediately prior to moving to America. In 1994 he was living in New Orleans, Louisiana, when he caught the film bug and made a short film "Squishy Does Porno!" which according to promotional materials gained cult status.  Shortly afterwards he moved to Los Angeles and landed a job in the adult industry.   In 2000 he made his debut feature film based on his observations of that industry, "The Fluffer", co-directed with Richard. The film premiered in North America at the Toronto Film Festival and internationally in Berlin, Germany. Premiere magazine selected it as one of the "Top Ten Buried Treasures" of the year.   
Quinceañera is a 2006 Sony Pictures Classics movie winner of the Audience Award and Grand Jury Prize for Best Dramatic Feature at the Sundance Film Festival 2006
To listen to the interview, scroll down until you see the "Podcast" on the right hand side, then select "HMPR Richard Glatzer and Wash Westmoreland" hit the play button or download it to your iPod or MP3 player to listen on the go, in your car or at home. To download it, click on the arrow of the recording you wish to copy and save to disk. The podcast will remain listed in the September 2006 section of the podcast.
 

Click the button to hear the podcast:
Click here to sponsor a HispanicMPR.com podcast