Posted by Elena del Valle on September 11, 2006
 Click here to sponsor a HispanicMPR.com podcast  
Joel Bary, CEO and board member, LatinMedios.com
Photo: LatinMedios.com
A podcast interview with Joel Bary, CEO and board member LatinMedios.com, is available on the Podcast Section of Hispanic Marketing & Public Relations, HispanicMPR.com. During the podcast, he discusses online marketing to Hispanics with Elena del Valle, host of the HispanicMPR.com podcast.
Prior to joining LatinMedios.com in 1999 as a business developer, Joel Bary was CEO of MultiMarketing Group, a Venezuelan based marketing and advertising integrated group of companies. The company offered design and manufacture of custom exhibit displays for point-of-purchase and tradeshows, market research and marketing strategy development, and production of promotional and marketing events.
He led the expansion of MultiMarketing Group into Latin America as well as the foundation of LatinMedios.com to which he was appointed CEO in 2001. LatinMedios.com is a specialized U.S. Hispanic and Latin-American online marketing and advertising agency founded in 1999 in Caracas, Venezuela. Its headquarters are in Miami, Florida with branches in Argentina, Chile, México and Venezuela.
While working with LatinMedios.com Joel has served some of the most important traditional advertising agencies in the region, as well as Fortune 500 companies including AmericanAirlines, Master Card, General Motors, Discovery Networks, Unilever, PalmOne and Nike. He studied architecture at the Simon Bolivar University in Caracas, Venezuela.
Over more than 12 years in marketing and advertising, he has been awarded several international recognitions, specifically in graphic design and corporate image. He received an honorary mention by the UNICEF, two short-listed nominations to the Lion Awards in Cannes (online advertising category) and most recently, the 2006 National Leadership Award by the National Republican Congressional Committee, naming him honorary chairman of the Business Advisory Council on behalf of the State of Florida.
To listen to the interview, scroll down until you see "Podcast" on the right hand side, then select "HMPR Joel Bary," hit the play button or download it to your iPod or MP3 player to listen on the go, in your car or at home. You can also subscribe to the podcast by right clicking over the podcast box and selecting "copy shortcut" then inserting the URL address in the podcast section of your iTunes program listed under the "advanced" column. The podcast will remain listed in the September 2006 section of the podcast.  
Click the button to hear the podcast:
Click here to sponsor a HispanicMPR.com podcast
---
"Marketing to Hispanics Online" audio recording
Identifying and characterizing the booming Hispanic online market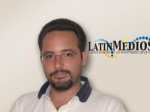 Joel Bary, Alex Carvallo and Matias Perel
To purchase a downloadable or CD audio recording with a presentation on marketing to Hispanics online by Joel Bary and interviews with Joel Bary, Alex Carvallo and Matias Perel visit the HispanicMPR.com Resources Section
---