Posted by Elena del Valle on September 5, 2006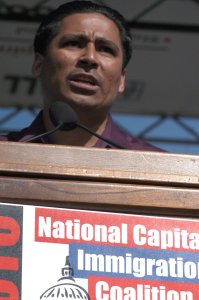 Jaime Contreras, president, National Capital Immigration Coalition and District Chair and Supervisor of SEIU Local 32BJ
Photo:  National Capital Immigration Coalition
Washington, DC – The National Capital Immigration Coalition (NCIC) in partnership with the We Are America Alliance (WAAA) is planning to make a statement on September 7, 2006. They expect hundreds of thousands of immigrants, business people, students, people of faith, working families, and other supporters to converge in Washington, D.C. to urge members of Congress to pass comprehensive immigration reform before the November elections. The rally will take place on the National Mall, 3rd Street NW between Constitution and Independence Avenues, at 4 pm and will end with a march around the Capitol.
"An overwhelming majority of Americans believes that our immigration system is broken and wants Congress to find a real solution," said Jaime Contreras, president of the National Capital Immigration Coalition and District Chair and Supervisor of SEIU Local 32BJ. "On September 7th, we will call for comprehensive immigration reform to protect all workers and stop dividing our families."
The Washington rally is one of a series of Labor Day weekend events across the country.  Other events planned include a Chicago march to the house of Speaker Dennis Hastert starting on September 1, and rallies in Phoenix on September 4 and Los Angeles on September 9. Each is unified in the call for comprehensive immigration reform they belive protects workers; stops massive deportations that divide families and communities; and provides an earned path to citizenship to undocumented people living and working in the U.S. 
The mobilizations are part of the civic participation and voter registration effort announced by the WAAA in the spring. Since then, immigrants across the country have been participating in Democracy Summer, which has included advocacy drives, voter registration, and workshops on becoming a citizen.
NCIC is a group of organizations dedicated to advocating, educating, and mobilizing the immigrant community in the Washington, D.C. metro area toward citizenship and civic participation. We Are America Alliance is a newlyformed national alliance of immigrant, grassroots, labor, local, statewide and national organizations such as Coalition for Humane Immigrant Rights of Los Angeles (CHIRLA), Center for Community Change, Illinois Coalition for Immigrant and Refugee Rights (ICIRR), New York Immigration Coalition (NYIC), and National Korean American Service & Education Consortium (NAKASEC) among others. Additional information on the events is available online at NCIC.org