Posted by Elena del Valle on August 28, 2006
Matias Perel, founder and president, Latin3
Photo: Latin3
A podcast featuring an interview with Matias Perel, founder and president, Latin3, is available in the Podcast Section of Hispanic Marketing & Public Relations, HispanicMPR.com. During the podcast, Matias discusses online search marketing to Hispanics with Elena del Valle, host of the HispanicMPR.com podcast.
Matías founded Latin3 in 2000. Since then he has led the company to a leading position among interactive marketing agencies in the U.S. and Latin America. He has a 10-year professional track record in the U.S. and Latin American advertising industries.
A native of Argentina, he has lived and worked in the U.S. for many years gaining knowledge of the Hispanic and Latino communities. Matias is invited to participate in seminars and conferences in the region and is frequently interviewed on CNN en Español.
Matias, a past board member of the Miami chapter of the International Advertising Association, serves on the Hispanic Committee of the Internet Advertising Bureau. He is also enrolled in the business graduate program at Harvard Business School.
As president of Latin3, Matias is charged with leading the company while working with clients to assist them to gain e-strategic advantage in the U.S. Hispanic and Latin American regions. Some of Latin3's clients include Cisco Latin America, Dell Latin America, Lexicon, Microsoft Latin America, Nextel International, Pepsi Latin America & USH, Reebok, Sony Latin America, Sunbeam Latin America, TACA Airlines, Visa International, and Xerox.
To listen to the interview, scroll down until you see the "Podcast" on the right hand side, then select "HMPR Matias Perel" hit the play button or download it to your iPod or MP3 player to listen on the go, in your car or at home. To download it, click on the arrow of the recording you wish to copy and save to disk. The podcast will remain listed in the August 2006 section of the podcast.

Click the button to hear the podcast:
Click here to sponsor a HispanicMPR.com podcast
---
"Search Engine Marketing to Hispanics" audio recording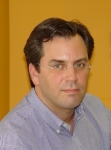 Presenter Matias Perel, founder and president, Latin3
To purchase a downloadable or CD audio recording presentation and discussion with extended information on search engine marketing to Hispanics by Matias Perel visit the HispanicMPR.com Resources Section
---