Posted by Elena del Valle on July 28, 2006
Photos of full size sculptures by Carlos Cartagena
Photos: Chelis Lopez 
Bay area artists have come together to bring immigrant silhouettes to life. Peruvian filmmaker Mabel Valdiviezo will follow Salvadorian Artist Carlos Cartagena as he travels throughout the Americas to help immigrants tell their stories in her latest project "Silhouettes: Immigration/Emigration Through The Eyes Of An Artist."
Cartagena will portray the tales of the immigrants' journeys from their homeland to the United States by using silhouettes.  He works with them to create full size images of  the immigrants carrying their prized possessions. The silhouettes are made up of letters written to and received from each person's country of origin, documents of identification and photographs. Along with these are the reasons that caused him or her to leave his or her country.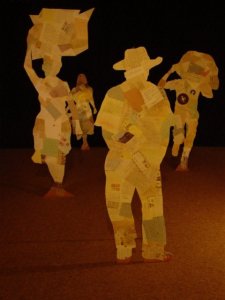 Photos of full size sculptures by Carlos Cartagena
The documentary will be made up of different installments shot through out North and South America. Mexico City is planned to be the first stop. From then on the artists will bring the past location's silhouettes in order to give others a foundation on which to base the artwork.
Valdiviezo will produce and direct the film for Haiku Films based out of San Francisco. She is a principal in the company which also produced the film "Soledad is Gone Forever."  With "Silhouettes," she believes immigration is being explored in a new light with a fresh dynamic perspective.
The film is a finalist in a PBS short film contest based on her work with Cartagena on his "Music Box" collection and a sample proposal for a finished full-length documentary. The winner will be selected by an online vote that can be cast at the PBS website until August 8, 2006. More information is available online at HaikuFilms.org — Melissa Gonzalez