Posted by Elena del Valle on July 24, 2006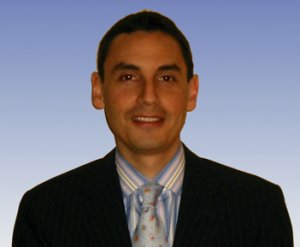 Carlos A. Alfaro, editor, Hispanic Trends Magazine
Photo: Seth Bennett
A podcast interview with Carlos A. Alfaro, editor Hispanic Trends Magazine, is available in the Podcast Section of Hispanic Marketing & Public Relations, HispanicMPR.com. During the podcast, he discusses an upcoming Hispanic Trends magazine event with Elena del Valle, host of the HispanicMPR.com podcast.  
Carlos joined Page One Media in October 2005, and was named editor of Hispanic Trends a few months later.  He is also responsible for Internet related projects of the company including Poder magazine's blog. He is a monthly contributor to the gadgets section of Hispanic magazine. 
Before joining Page One Media, Carlos was sections editor for lifestyle magazine Loft where he was responsible for producing the content for 12 sections of the magazine.  He joined Zoom Media Group, Inc., Loft's parent company in 2000 as staff writer for Internet magazine Punto-Com focusing on technology stories.  Punto-Com later evolved into the business magazine Poder where Carlos still contributes to the travel and technology sections. 
To listen to the interview, scroll down until you see the "Podcast" on the right hand side, then select "HMPR Carlos A. Alfaro," hit the play button or download it to your iPod or MP3 player to listen on the go, in your car or at home. To download it, click on the arrow of the recording you wish to copy and save to disk. The podcast will remain listed in the June 2006 section of the podcast.
Click the button to hear the podcast: