Posted by Elena del Valle on July 7, 2006

Ricardo Montalban's American high school diction teacher inspired his future as one of Hollywood's most recognizable Mexican Americans, seen here as Fantasy Island's "Mr. Roarke"
Photo: Photofest and Shades of L.A./Los Angeles Public Library

WLIW will redistribute "The Mexican Americans," originally produced in 2000, nationwide on public television in August 2006.  According to promotional materials actor Ricardo Montalban, comedian Paul Rodriguez, singers Vikki Carr and Tish Hinojosa, former U.S. Secretary of Energy Bill Richardson, director Luis Valdez ("La Bamba"), activist Dolores Huerta, artists, politicians, journalists, and community leaders share their personal stories during the program.
According to the film producers, Mexican Americans defended this nation in every war in the 20th century, becoming among the highest decorated ethnic groups. "The Mexican Americans" looks at the Mexican diaspora and its various waves such as the "accidental immigrants" who found themselves on the other side of the California and New Mexico borders at the end of the U.S.-Mexican war; the miners and railroad workers who came after the Mexican Revolution; and the migrant farmers who came to the United States when their Mexican ranchos were taken from them. "The Mexican Americans" endeavors to showcase the challenges they overcame, and the changes that their children have affected in the United States.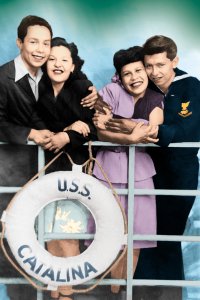 World War II servicemen and their girlfriends
For the migrant farmer, traveling up and down the United States following crop seasons or a wage increase of as little as two cents a bushel, playwright and director Luis Valdez recalls in the program, home "was a question mark." But as many in the program recognize, this sacrifice reaped the American Dream, and when the children of these laborers succeeded, they never forgot where they came from.
Comedian Paul Rodriguez shares an emotional account of the day he handed his father the deed for the 40 acres of farmland his parents worked to provide for the family when he was a small boy. He was able to make the purchase from a level of success they never imagined possible for themselves.
The program also focuses on Mexican-Americans' ability to improve the quality of their experience in the United States within a generation; and the late Cesar Chavez and Dolores Huerta's efforts.  The program includes archival film and photos blended with modern footage of communities in California, Texas, and New York in order to portray the Mexican American community's heritage.
"The Mexican Americans" is the twelfth program in WLIW New York's series of cultural documentaries celebrating the diversity of America, which also includes "The Cuban Americans" and "The Puerto Ricans: Our American Story." It was produced by Roy Hammond, executive producer; Roman Brygider, producer and director; and producers Robin Llompart and Blanca Santos.