Posted by Elena del Valle on June 30, 2006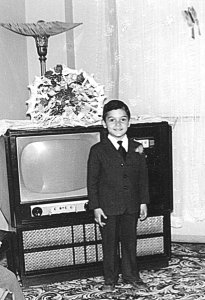 Jimmy Smits prepares for his first childhood visit to la Isla, circa 1963
Photos: courtesy of Jimmy Smits and WLIW New York
WLIW will distribute "The Puerto Ricans: Our American Story," a program about Puerto Rico originally produced in 1999, a second time nationwide in August 2006. Entertainer Rita Moreno, late musician Tito Puente, actors Ricardo Montalban, Jimmy Smits and Miriam Colón, singers Justino Díaz and Ednita Nazario, author Esmeralda Santiago, tennis player Gigi Fernández, and former Governor Pedro J. Rosselló share their personal stories.
Filmed in the continental United States and on the island of Puerto Rico, the program explores the customs and traditions that have bonded Puerto Rican families for generations.
The show's producers set out to illustrate how Puerto Rico's customs, traditions, music, and dances define the identity of a growing American community. According to them, these cultural connections are so powerful for Puerto Rican families they exist even for those living on the mainland who have never been to the island. They say that for those who have been to Puerto Rico there is an inextricable bond to the island.
The spectrum of Puerto Rican music and dance includes plena, whose rhythms and traditional costume reflect the island's African influence, Hispanic Day Parade, New York City, October 1998
Jimmy Smits describes the preparations for his first childhood visit at age five as if it were a religious ceremony; with starched white shirt, vest, suit and tie.  According to author Esmeralda Santiago (When I Was Puerto Rican), being Puerto Rican American is "like a child jumping double Dutch… two ropes [Puerto Rican and American identity] going in opposite directions very quickly… it is a constant juggling, a constant jumping up and down trying to be in one place or another."
This duality put tennis player Gigi Fernandez at a crossroads as she prepared for the 1992 Summer Olympics in Barcelona and had to choose between representing the mainland or the island. Fernandez talks in the program about her personal struggle with the two worlds of Puerto Rican life as "a hard emotional decision but a very easy career decision" because she knew the only way she would win was on the U.S. team. Representing the United States that summer, Fernandez became the first Puerto Rican woman to win an Olympic gold medal.
"The Puerto Ricans: Our American Story" was produced by WLIW New York. They have produced other public television specials celebrating the diversity and ethnic character in America such as "A Laugh, a Tear, a Mitzvah" (Jewish Americans); "The Cuban Americans;" "The Polish Americans" and "The Mexican Americans." The production team included Ron Rudaitis, director; Roy Hammond, executive producer; Ron Rudaitis and Sam Toperoff, producers; Yvonne Rodriguez Sanchez and Robin Llompart, associate producers; and Sam Toperoff, writer.