Posted by Elena del Valle on June 28, 2006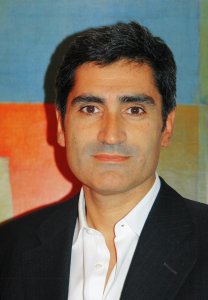 Alejandro Cosentino, CEO, Voy Music
Photos: Voy Music, Starmedia.com
Miami, Florida – StarMedia and Voy Music recently launched StarMedia Radios, a joint online digital Latin music service powered by Voy. According to promotional materials, StarMedia Radios provides "the broadest selection of Latin music available online," a network of 26 originally programmed radio stations, a music store, the world's first Latin music virtual record label as well as podcasting, and news. 
StarMedia Radios' new media player offers streaming music and news that is "fully integrated" with other services including viral networking features allowing users to rate, recommend and share specific selections with friends. 
"The launch of StarMedia Radios will provide StarMedia's customers with a leading-edge digital entertainment platform to discover, explore and enjoy all facets of the Latin music experience," said Alejandro Cosentino, CEO, Voy Music.  "The service is intuitive and comprehensive, allowing Latin music fans to fully search, select, consume and share all things relevant to their passion for Latin music and the best of Latin culture."
Juan Jose Nuñez, vice president, Operations, Starmedia
"StarMedia has continually sought to strengthen its brand by developing the variety and relevance of its content.  The new StarMedia Radios service will significantly enhance our user's online experience, through an innovative, cutting-edge digital music service, the latest in a series of recent upgrades to the portal," said Juan José Nuñez, vice president of operations, StarMedia.
Starmedia.com is a free-to-web service connecting approximately 18 million Spanish-speakers through the Internet. Voy Music executives describe their company as a next generation platform dedicated to the discovery, promotion and marketing of Latin music. StarMedia has local operations in Mexico, Spain and the United States (Los Angeles, Miami and New York). It is wholly owned by Wanadoo, a subsidiary of the France Telecom Group and one of Europe's largest online companies.