Posted by Elena del Valle on June 9, 2006
Click here to sponsor a HispanicMPR.com podcast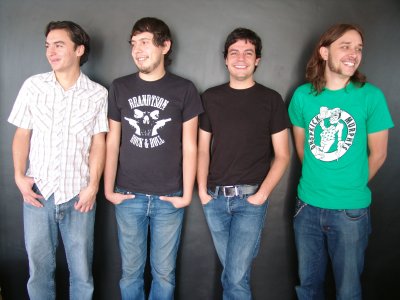 Hummersqueal: left to right Normand, Christian, Poncho and Salvatore
Los Angeles, California —  SourPop Records, a leading Latin alternative independent label, recently welcomed a new addition to its musical family, the band Hummersqueal from Mexico City. With a career that spans more than six years, Hummersqueal is  dubbed by promoters as an outstanding indie rock band in Mexico.
According to promoters, the band has received consistent radio play at "Reactor," a popular pop/rock station in Mexico City, recurrent video play and sales of more than 5,000 units in their native country.
"Di:Helo," the band's self-produced debut album in the United States, was recorded in Mexico City and Guadalajara, Mexico. Mastered by Don Tyler (Beck, Devo, Nirvana, Jimmy Eat World, Julieta Venegas, Jumbo) at Precision Mastering in Beverly Hills, California, it was set for release stateside this month.
Hummersqueal has toured in major the Mexican markets of Mexico City, Toluca, Guadalajara, Monterrey, Zacatecas, Guanajuato, and Veracruz. In Mexico, the band has shared the stage and rocked alongside Audioslave, Tristeza, The Misfits, Jumbo, Genitallica, and Amigos Invisibles.
Hummersqueal band members, natives of Mexico City, are: Salvatore Vitale, (guitar) Alfonso Contreras, (drums/vocal) Normand Olea (bass) and Christian Guijosa (guitar/vocals). The band's collective mission is to play "good/intelligent  rock-and-roll about life experiences in the big city, growing up and love, for the new generations regardless of language."
The band took the unusual name from an equally unlikely source a 1970's Czech film in which the main protagonist (an autistic child) sports that very word embroidered on his jacket. Hummersqueal is scheduled to perform in the United States (West Coast) during the summer of 2006.
Since 2000, SourPop Records has been a pioneering Latin Alternative label in the United States, uniting bands "that celebrate the spirit of independent music" from the U.S.A., Mexico, Canada, Argentina, Colombia and Japan. SourPop Records' is distributed in the United States and Puerto Rico by DLN.
To listen to Hummersqueals "Buick A Monterrey" song from the recently released "Di:Helo" album scroll down on HispanicMPR.com until you see "Podcast" on the right hand side, then select "Hummersqueals Buick A Monterrey " by clicking on the title or on the play button. You can also download it to your iPod or MP3 player to listen on the go, in your car or at home. To download it, click on the arrow of the recording you wish to copy and save to disk. The podcast will remain listed in the June 2006 section of the podcast.
Click the button to hear the podcast: