Posted by Elena del Valle on May 26, 2006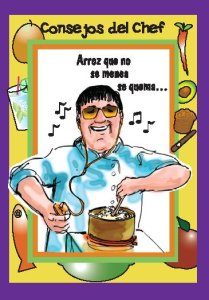 Lantigua Designs' Chef Rodriguez cards
Photos: Chef Rodriguez and Lantigua Designs
Lantigua Designs, Inc. and Chef Douglas Rodriguez developed a new line of Spanish language greeting cards which feature caricatures of the chef, some of his most popular recipes, and catchy Spanish dichos, which means sayings in Spanish.  Inspired by Chef Rodriguez's Latin cuisine, Lantigua Designs created two lines of greeting cards: Consejos del Chef (Spanish for chef's advice) and Sabor Latino, (Spanish for Latin Flavor). A percentage of the proceeds from the Chef Rodriguez line will be donated to the Committee for Hispanic Children and Families of New York City. 
"As a long-time fan of Chef Rodriguez's cooking, I am thrilled to be working with him on this new greeting card line.  We are both proud of our Hispanic heritage and it is reflected in our individual work, as well as through this joint effort," said Liz Lantigua, president, Lantigua Designs.  
Chef Douglas Rodriguez
"The flavor of the Latin community is not only found in our food but in our humor, family traditions and music, all of which are conveyed in these distinct cards," said Chef Rodriguez.  "It's another way of send a greeting with lots of sabor!" 
Chef Douglas Rodriguez is the son of Cuban immigrants and was raised in Miami.  He grew up with the sights, smells, and tastes of Cuban-American cuisine and  developed a passion for food early on in his life.  In 1989, he opened his first restaurant named Yuca, a Cuban style restaurant in Coral Gables.  He won the "Chef of the Year, Miami" recognition from the Chefs of America just before moving to New York.  In 1994, Chef Rodriguez became the executive chef and co-owner of restaurant Patria.  After Patria, he opened Chicama, a Peruvian ceviche bar, and Pipa, a Tapas bar.  In 1996, he received the James Beard Foundation's Rising Star Chef of the Year Award.
Chef Rodriguez, now residing in Miami, oversees four restaurants.  The two in South Florida are OLA Miami and OLA Steak & Tapas.  In Philadelphia he owns Alma de Cuba and in Scottsdale, Arizona he owns Deseo.  He is also the author of Nuevo Latino, Latin Ladles, Latin Flavors on the Grill, and The Great Ceviche Book. 
Lantigua Designs specializes in Spanish language, Latin-themed and bilingual greeting cards that appeal to Hispanics living in the United States. It first introduced its line of cards in April 2005 to retailers in the South Florida region.  For more information online, visit ChefDouglas.com and LantiguaDesigns.com . — Gabrielle Sarnese.