Posted by Elena del Valle on May 17, 2006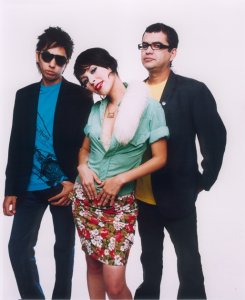 The Pinker Tones and Belanova will perform at 2006 LAMC
Photos: LAMC
The 7th annual Latin Alternative Music Conference, LAMC, will continue its tradition of gearing people towards the marketing of Spanish-language alternative music and will once again be held in New York August 2-5, 2006. There is an early bird registration rate of $199 for those who those who register no later than June 1. Registration after that date is $249 and the price moves up to $299 a month before the event. 
The event will feature free concerts in Central Park Summerstage, celebrate Brooklyn Festival at Prospect Park Bandshell and Museo del Barrio as well as daytime performances by independent artists in Manhattan's Puck Building in SoHo. This year's conference will expose Latin music trends such as reggaeton, rock, pop, electronica and hip-hop merged with local traditions.
"We take pride in being ahead of the curve in exposing people to the latest trends in Latin music," said Josh Norek, LAMC co-founder and organizer. "We've grown every year since we put on this event. It's a lot of work, and the industry recognizes LAMC is a leading forum to hear music."
Josh Norek, LAMC co-founder and organizer
The conference will provide networking opportunities for leading artists, label executives, journalists, marketers, managers, retailers and programmers. Independent artists Chetes, The Pinker Tones, Motel, La Monareta, Superaquello, and Spigka have been invited to perform. In addition to the music, industry panelists will also be on hand and to discuss dealing with digital media, Spanish and English concerning American Latinos, revenue streams artists should know about, and artists crossing over, which Jose Tillan, president of MTV Latin America and MTV Tres, will cover.
Tomas Cookman, LAMC co-founder 
Norek and Tomas Cookman founded LAMC in 2000. According to them, the event has averaged more than 20,000 concert fans and 1,000 music industry attendees. Past performers include Jorge Moreno, Si Se, Cielo Ceniza, and Los Abandoned. Past panelists include Stella Mars, marketing manager for DMX Inflight, and David Chitel, chairman and CEO for LatCom Communications. For additional information online, visit LatinAlternative.com. — Sergio Carmona