Posted by Elena del Valle on May 16, 2006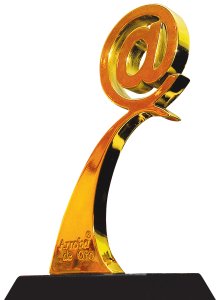 Arroba de Oro award
Photo: Arroba de Oro
Miami, Florida – Since 2001, Arroba de Oro has held a contest in Latin America to recognize web sites that best contribute to the development of the Internet industry in the region. Arroba de Oro is Spanish for gold "@" symbol. This year, Arroba de Oro in conjunction with Univision Online will expand the contest to include Spanish language websites in the United States for the first time. The goal is to honor companies, organizations and individuals that serve the U.S. Hispanic market in Spanish via their web sites.
According to the award organizers, 40 percent of Hispanics access the Internet from home. Arroba de Oro, which was originally established in El Salvador, hopes to strengthen and highlight Hispanic Internet penetration by showcasing the web sites that actively target this market through Spanish-language programming and features.
Creativity, design, content, and the ability to identify with the U.S. Hispanic Spanish speaking community are some of the factors the Arroba de Oro contest will consider when granting its awards on August 18 in a gala ceremony in Miami.
Web sites can register free by May 20 in the following 13 categories: Government and Non Government Organizations,  Art, Culture and Tradition,  Clubs and Sports Associations,  Gastronomy, Humor, Online Newspapers, Personal Web Pages, Professional Services,  Religion and Spirituality, Hotel, Tourism and Restaurants, Educational Institutions,  Corporate Sites and Fan Clubs.
A jury of 50 members from 17 countries, will certify the winners of each category after registered voters cast their electronic ballots online. During the ceremony winners will receive awards that include Best Design, Best Home Page, and Most Online Votes and take home $75,000 in cash and prizes. More information is available online at ArrobadeOro.com