Posted by Elena del Valle on May 1, 2006
Click here to sponsor a HispanicMPR.com podcast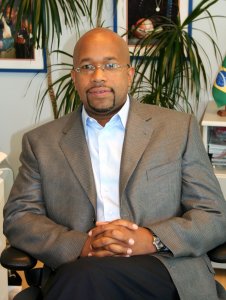 Arturo Nuñez, vice president and managing director, Latin America/U.S. Hispanic, NBA
Photos: NBA
A podcast interview with Arturo Nunez and Saskia Sorrosa, NBA Latin America and U.S. Hispanic, is available on the Podcast Section of Hispanic Marketing & Public Relations, HispanicMPR.com. During the podcast, they discuss marketing basketball to Hispanics with Elena del Valle, host of the HispanicMPR.com podcast.
Saskia Sorrosa, senior manager, Communications, NBA Latin America/U.S. Hispanic
Saskia has more than seven years of public relations and marketing experience working for major public relations firms and multinational corporations in the U.S. and Latin America. Named senior manager, Communications, NBA Latin America and U.S. Hispanic in June 2004, she is responsible for spearheading public relations, corporate communications and Internet initiatives (nba.com/espanol) for the NBA in the region.
Prior to assuming this role, Saskia launched and managed the Burson-Marsteller Medellin, Colombia office, where she was responsible for positioning and growing the firm in the Antioquia region, as well as broadening its client base. During that time, she was also responsible for managing the Ecuador market, exploring new business opportunities, pitching new client prospects and managing the U.S. Bureau of Engraving and Printing account for the launch of the new U.S. $20 bill.
Arturo was named NBA vice president and managing director, Latin America and U.S. Hispanic in October 2003. He first joined the NBA as marketing director, Consumer Products for the NBA Latin America office in August 1999 and was named managing director of the office in December 2000.
Arturo's responsibilities include managing the sales and distribution of NBA consumer products; working with sponsors and marketing partners in the Latin America region; developing the NBA's U.S. Hispanic strategy and marketing initiatives; implementing new grassroots initiatives in the region; and overseeing the internet strategies for NBA.com/espanol and its affiliated sites. His parents are Venezuelan and Cuban and he is a native of Harlem, New York. Arturo is trilingual (English, Spanish and Portuguese).
To listen to the interview, scroll down until you see "Podcast" on the right hand side, then select "HMPR Arturo Nunez and Saskia Sorrosa," hit the play button or download it to your iPod or MP3 player to listen on the go, in your car or at home. You can also subscribe to the podcast by right clicking over the podcast box and selecting "copy shortcut" then inserting the URL address in the podcast section of your iTunes program listed under the "advanced" column. The podcast will remain listed in the May 2006 section of the podcast.
Press the button to hear the interview: