Posted by Elena del Valle on April 28, 2006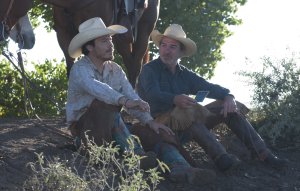 Melquiades and Pete in "The Three Burials of Melquiades Estrada"
Photo: Dawn Jones EuropaCorp
"The Three Burials of Melquiades," a Sony Pictures Classic movie written by Guillermo Arriaga and produced by Tommy Lee Jones opens to audiences in Los Angeles Friday, April 28. It is a human drama with the U.S. Mexico border and illegal immigrant issues as a backdrop.  The movie received Best Screenplay Award for Guillermo Arriaga's script and Best Actor Award for Tommy Lee Jones from the Cannes Film Festival.
Actors include Tommy Lee Jones,  Barry Pepper,  Dwight Yoakam,  January Jones,  Melissa Leo,  and Julio Cedillo as Melquiades Estrada.  In addition to Jones, producers included Michael Fitzgerald, Luc Besson, and Pierre-Ange Le Pogam.
The movie house  will donate five percent of the proceeds to the Mexican American Opportunity Foundation (MAOF). Founded on February 7, 1963 and a United Way member agency since 1970, the Foundation is a community based organization dedicated to human services for the Spanish speaking population of Californa.
"We are extremely grateful to Sony Pictures Classics for this much needed and generous donation," said Martin Castro, president, MAOF.   "Particularly in trying times like these when our country appears to be passionately divided on so many fronts, it is refreshing and encouraging to be able to partner with Sony and thereby come closer to realizing our mission of helping California's predominately Mexican Hispanic community with invaluable educational and professional development programs."