Posted by Elena del Valle on April 24, 2006
Click here to sponsor a HispanicMPR.com podcast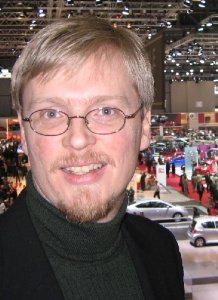 Tom H. C. Anderson, MBA, MEA, managing partner, Anderson Analytics
Photo: Tom Anderson
A podcast interview with Tom H. C. Anderson, MBA, MEA, managing partner, Anderson Analytics, is available on the Podcast Section of Hispanic Marketing & Public Relations, HispanicMPR.com. During the podcast, Tom discusses Latino youth market issues with Elena del Valle, host of the HispanicMPR.com podcast.
Tom has more than a decade of experience at some of the largest global marketing research companies such as TNS, NFO Worldwide, and AC Nielsen BASES. He has worked on product and market development projects across several countries and industries including financial services, telecommunications, packaged goods and travel and entertainment.
Prior to founding Anderson Analytics, Tom led the Starwood Hotels & Resorts Worldwide account for TNS-NFO, where he managed market research studies in more than 80 countries and consulted for executive and brand management of Westin, W Hotels, Sheraton, Four Points, St Regis, Luxury Collection, and Starwood Vacation Ownership.
Before TNS-NFO, Tom helped found IQuestics.com, a 'Gen-I' consumer insights consultancy for Snowball.com, now IGN.com. While at IQuestics he perfected the online quantitative and qualitative skills required to understand and market to the technologically savvy 13-30 year old Gen-X & Gen-Y demographic.
Tom has knowledge in of market research and advanced multivariate statistical analysis. He has served as a consultant to dozens of fortune 500 companies and major marketing research suppliers and ad agencies including Visa, Microsoft, Hasbro toy Group, Kraft, Pfizer, Bayer, Colgate-Palmolive, Lexus/Nexus-Westlaw, Dunkin Donuts, Star-Kist, Philip Morris International, Lipton Tea, Evian, Braun, New Power, CNC.com. First USA Bank, Merrill Lynch, Delta Faucets, Loews, Greenfield Online, U30, TLP, Insight Express, ABB Ltd, SKF AB, Shanghai General Motors, and MBL, Inc.
He earned his bachelor of science in Marketing and MBA, Beta Gamma Sigma, in marketing, finance and international business from the University of Connecticut where he is a frequent guest speaker in graduate level marketing research and data-mining courses. He attained his Master of Economics with honors from Lund University, Sweden. During his thesis work he consulted for several joint ventures in Shanghai, China.
To listen to the interview, scroll down until you see "Podcast" on the right hand side, then select "HMPR Tom Anderson," hit the play button or download it to your iPod or MP3 player to listen on the go, in your car or at home. You can also subscribe to the podcast by right clicking over the podcast box and selecting "copy shortcut" then inserting the URL address in the podcast section of your iTunes program listed under the "advanced" column. The podcast will remain listed in the April 2006 section of the podcast.


Click the button to hear the interview: