Posted by Elena del Valle on April 20, 2006
 Click here to sponsor a HispanicMPR.com podcast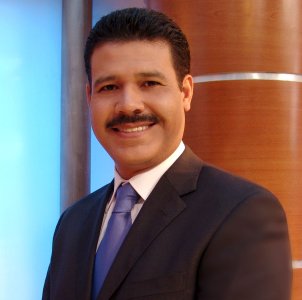 Jose Martin Samano, Azteca America reporter
Following Hurricane Katrina's devastation on the gulf coast in late August, Azteca America anchor José Martín Sámano was one of the first reporters on the ground in Louisiana. His series of segments covering the storm's effects on Hispanic residents earned him a plaque of special recognition presented by Lupita Colmenero and Tom Oliver president and executive director respectively of the National Association of Hispanic Publications (NAHP). 
"The influence that we have as Hispanic media is growing every day. As we improve the quality of content, we will be able to attract new bilingual viewers to Hispanic media as well as maintaining viewership of existing Spanish speakers of the fastest-growing minority group in the nation," said Sámano to a group of publishers at the NAHP Annual Conference.
Sámano stayed in the impact zone of Louisiana for two weeks. His segments focused on the disaster and the plight Hispanic residents of Louisiana dealt with as a result of the storm. Throughout his broadcast career in Mexico and the United States, Sámano has prepared special reports for the "Hechos" news show in Mexico and has covered Cuban balsero refugee issues. He also covered the United States invasion of Haiti, an earthquake in El Salvador, Mexican immigrants in Alaska and other migrant border issues.
Sámano anchors the evening and nightly newscasts alongside other award winning news staff.  At 6:30 p.m. he co-anchors with six-time Golden Mike Award winner Nancy Agosto, a veteran of Univision's local Los Angeles newscast. He co-anchors the nightly newscast at 11 p.m. with Jackeline Cacho, a former anchor of local Univision newscasts in San Antonio and recipient of  the 2003 Hispanic Woman Award from Yellow Rose of Texas.
Azteca America is a wholly-owned subsidiary of TV Azteca S.A. de C.V, one of the largest producers of Spanish language television content in the U.S. Azteca America added two more stations in March, raising the number of markets that have presence with the network  to 43. Azteca America moved its entire news operations to California earlier this year and is the only network that produces its broadcast news from Los Angeles. Sergio Carmona