Posted by Elena del Valle on April 17, 2006
Click here to sponsor a HispanicMPR.com podcast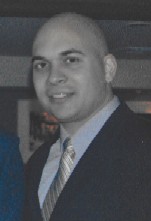 Louis Pagan, creator and author, Latinopundit.com
Photo: Louis Pagan
A podcast interview with Louis Pagan, creator and author, Latinopundit.com is available on the Podcast Section of Hispanic Marketing & Public Relations, HispanicMPR.com. During the podcast, Louis discusses blogging and Hispanic market issues with Elena del Valle, host of the HispanicMPR.com podcast.
Latinopundit.com is a daily weblog that focuses on Latino issues and flies under the banner "Born out of underrepresentation."  Louis, the website founder, feels mainstream media does not do enough to cover the Hispanic community.
For almost three years Louis has scoured the internet for events that affect the Hispanic community in America.  He corrals this information on his blog for readers to learn and participate in the discussion by submitting comments.  Louis feels his readers benefit from getting information on Latinopundit.com instead of from to traditional sources that may not represent the Latino community adequately. According to Louis, Latinopundit.com's readership exceeds 2,000 visitors a day.
"Not bad for a non-commercial site," said Louis who believes his success is due to his opinion on events. "People want to know what other's think, especially those who are not afraid to say what they think." 
To listen to the interview, scroll down until you see "Podcast" on the right hand side, then select "HMPR Louis Pagan," hit the play button or download it to your iPod or MP3 player to listen on the go, in your car or at home. You can also subscribe to the podcast by right clicking over the podcast box and selecting "copy shortcut" then inserting the URL address in the podcast section of your iTunes program listed under the "advanced" column. The podcast will remain listed in the April 2006 section of the podcast.