Posted by Elena del Valle on April 14, 2006
 Click here to sponsor a HispanicMPR.com podcast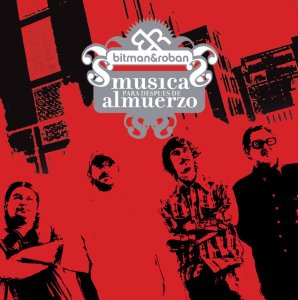 Bitman & Roban album cover
Photo: Nacional Records
One of Chile's musical exports, Bitman & Roban, will make their stateside debut May 2 with a new album, "Musica Para Despues de Almuerzo" (Music for After Lunch) released on Nacional Records. "Musica Para Despues del Almuerzo" is the band's third release and their first U.S. release.  Bitman & Roban' first two albums were "Hurtos" (released in 2000) and "Robares Natural" (released in 2002).
The Bitman & Roban album track "Despues de Almuerzo, Part I" was included in the recently released soundtrack to the Lionsgate film titled "La Mujer de Mi Hermano."  The DJ crew from Chile features a mix of electronic, funk, hip-hop, Latin and lounge music.  The album's mix is complemented by collaborations with Anita Tijoux, Solo Di Medina, Tea Time and Juan Chills.  DJ Bitman leads the group. According to Bitman & Roban promoters, the artists have received heavy airplay and video play for the clip "Tatita," the first single from the album (available on the HispanicMPR.com podcast). 
Bitman & Roban is composed of José Antonio "Toto" Brave, Cristián Powditch, Roberto "Titae" Lindl and Adolfo Araus.  José Antonio "Toto" Brave a.k.a. DJ Bitman does the samples, scratches and beats.  Cristián Powditch is the synthesizer, Roberto "Titae" Lindl plays the bass and Adolfo Araus plays the piano.
To listen to Bitman & Roban "Tatita" song from the recently released "Musica Para Despues de Almuerzo" album scroll down on HispanicMPR.com until you see "Podcast" on the right hand side, then select "Bitman & Roban Tatita" by clicking on the title or on the play button. You can also download it to your iPod or MP3 player to listen on the go, in your car or at home. To download it, click on the arrow of the recording you wish to copy and save to disk. The podcast will remain listed in the April 2006 section of the podcast. Gabrielle Sarnese