Posted by Elena del Valle on April 13, 2006
Click here to sponsor a HispanicMPR.com podcast 
---
 Carlos Garcia, partner and chief strategist, Nobox Marketing Group, Inc.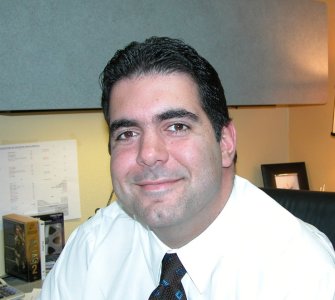 Juan Alberto Arteaga, director, Arteaga Interactivo
Photos: Hispanic Market Pro
Miami, Florida – Hispanic Market Pro (HMP) will host a 90 minute national audio conference Thursday, April 20 at 1 p.m. ET to discuss the growth of the interactive and Internet advertising markets in Puerto Rico. The teleconference, to be conducted in Spanish, will cost $100 per site.
"Puerto Rico's Digital Frontera: Increasing Your Market Share by Developing the Right Internet Strategy"  is part of a series of professional development audio conferences for Hispanic communicators.  Speakers include Carlos Garcia, partner and chief strategist of Nobox Marketing Group, Inc.; Juan Alberto Arteaga, director of Arteaga Interactivo and Rene Juan de la Cruz-Napoli, director, DLC Digital. Bill Gato, president and partner of Hispanic Digital Network, will moderate the audio conference.
Some of the topics slated for discussion during the audio conference include: An in-depth market profile of Puerto Rico's Internet marketplace featuring key facts and figures about the island's online market space; the effect of Puerto Rico's bilingual and bicultural heritage on online marketing campaigns and Web sites have to be conducted; differences between Puerto Rico's online marketing arena and the U.S. Hispanic Internet; examples of campaigns or Web sites that have crossed over from Puerto Rico to the U.S. Hispanic market and vice versa; news about Puerto Rico's interactive boom for 2006; the five leading online media players in Puerto Rico and the key audience and content differentiators among them; technical and legal issues particular to do Internet marketing in Puerto Rico; industries, companies and brands that are investing most aggressively in the Puerto Rico interactive marketplace; companies and organizations that have the most effective Puerto Rico-focused Web sites and what makes them stand out; and the importance of volume discounts for interactive advertising. Registration information is available online at HispanicMarketPro.com
Co-headquartered in Miami and New York, Hispanic Market Pro provides Hispanic marketing executives professional development teleseminars. A joint venture of Hispanic PR Wire and Bryan Communications, the company offers audio conferences every other Thursday on a wide variety of career-building topics that appeal targeting executives in advertising and public relations.
---