Posted by Elena del Valle on April 12, 2006
Click here to sponsor a HispanicMPR.com podcast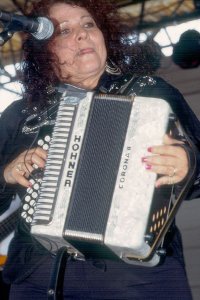 Performer Eva Ybarra
Photos: Guadalupe Cultural Arts Center
San Antonio, Texas – Tejano artist Ram Herrera and Conjunto performers Mingo Saldivar and Flaco Jimenez will be among the headliners at the 25th Annual Tejano/Conjunto Festival to be presented by the Guadalupe Cultural Arts Center May 10-May 14 at Rosedale Park in San Antonio, Texas. Texas-based acts and three out-of-state bands will take the stage during the festival: Juan Chapa of Azusa, California; Grupo Xpresión of Lakin, Kansas; and Los Cuatro Vientos de Jimmy Bejarano of Freemont, Ohio. Festival tickets are $7.50 and a four-day "Festival Pass" is available for $25.
Kicking off the five-day event on Wednesday, May 10, 6-9 p.m., will be a fundraising "mixer" at the Guadalupe Theater, featuring the sounds of Juan Tejeda y Conjunto Aztlan. Other performaners include: Henry Zimmerle, Los dos Gilbertos, the Hometown Boys,  Eva Ybarra y Su Conjunto, Mingo Saldivar y Los Tremendos Cuatro Espadas, Joel Guzman y Los Aztecs with Special Guest Sarah Fox,  Guadalupe Students, Los Cuatro Aces, Santiago Jimenez Jr., Linda Escobar y Su Conjunto, Ruben Vela y Conjunto, Los Texmaniacs, Angel Flores, and Chano Cadena.  
Conjunto performer Mingo Saldivar
Organizers say the five-day celebration of music and culture has become a major annual event in the Alamo City, drawing visitors from across the country, Mexico and overseas.  In addition to showcasing these music forms, the festival also includes cultural and educational activities, food booths, and games.
Conjunto music began more than 100 years ago when the native Mexican population living in South Texas and northern Mexico adopted the lively button accordion from the German settlers, and combined it with the Spanish guitar, or bajo sexto (a 12-string bass guitar). Conjunto musicians mixed European rhythms such as polkas and waltzes with indigenous Mexican musical forms, creating a highly stylized form of music.
Eventually, the Conjunto sound became influenced by American big bands of the 1930s and 1940s, creating a new music form known as Orquesta Tejana, which featured horns, saxophones, trumpets, pianos and guitars. Conjunto and Orquesta Tejana continued to evolve parallel to each other until the mid-1970s, when the two merged into what we now know as Tejano, a highly danceable music featuring colorful light shows, pyrotechnics, smoke machines and flashy outfits. It is one of the fastest growing segments in the music business.  San Antonio has emerged as a capital for Conjunto and Tejano.
The Guadalupe Cultural Arts Center is one of the premier cultural and educational centers of San Antonio.  Since its founding in 1980, it has created and carried out programming that reaches tens of thousands of people annually and has earned a national reputation for celebrating and preserving the rich cultural heritage of the Chicano, Latino and Indigenous peoples of the United States, particularly in the Southwest.