Posted by Elena del Valle on April 7, 2006
 Click here to sponsor a HispanicMPR.com podcast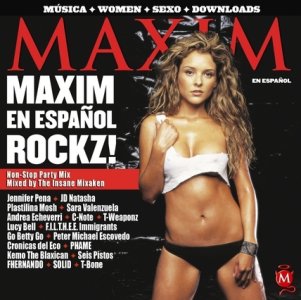 Maxim en Español Rockz! cover
Photo: Dennis Publishing
Pasadena, California/New York, New York  — Dennis Publishing, Inc., JMuzic, in collaboration with Maxim en Español magaine, recently released the compact disc music compilation "Maxim en Español Rockz!" in the U.S. The first brand licensing offshoot of American flagship Maxim's successful Hispanic Americas edition, this eclectic compilation showcases the diversity of talent in popular Latin music, with acts spanning rock en Español, reggaeton, hip-hop, punk, Latin alternative, and trip hop.
Featured artists are break-out rocker JD Natasha, Grammy-nominated Andrea Echeverri, and Plastilina Mosh (whose contribution is the brand new track "Nalguita" from the band's forthcoming Greatest Hits collection).
"Maxim en Español Rockz!" is enhanced with two music videos, "La Receta" by Kemo the Blaxican and "Amortiguador" by Andrea Echeverri, screensavers and wallpapers  for download. On the pop side, Jennifer Pena makes an appearance with the song "Corazon Bandido." Rock and punk are represented by buzz bands as Go Betty Go ("Saturday"), Lucybell ("Salvame La Vida") and Seis Pistos ("El Punk No Morira").  Hip-Hop and urbano abound with acts such as Kemo the Blaxican of Delinquent Habits ("La Receta"), Phame ("Arriba"), and T-Weaponz ("Mira, Mira"). 
Backed with an upcoming national television and print campaign, "Maxim en Espanol Rockz!" represents one of the most extensive efforts to date to represent a cross-section of Hispanic youth culture in Spanish and English on one single album.
"Maxim en Español Rockz!" tracks include: 1. "Mira, Mira" by T-Weaponz, 2. "Wepa" by C-Note, 3. "Plastico" by JD Natasha, 4. "Corazon Bandido" by Jennifer Pena, 5. "La Receta" by Kemo The Blaxican, 6. "Amortiguador" by Andrea Echeverri, 7. "Salvame La Vida" by Lucybell, 8. "Bounce" by T-Bone, 9. "Nalguita" by Plastilina Mosh, 10. "Saturday" by Go Betty Go, 11. "El Punk No Morira" by Seis Pistos, 12. "Lado Este" by Sara Valenzuela, 13. "Under My Skin" (Ocean Radio Mix) by Fhernando, 14. "Ghetto Mambo" by Peter Michael Escovedo (available on the HispanicMPR.com podcast), 15. "Libertad" by F.I.L.T.H.E.E. Immigrants, 16. "Arriba" by Phame, 17. "Loving You" by Solid, and 18. "Penumbra" by Cronicas del Eco. 
Dennis Publishing, Inc. is a media company that publishes the two modern men's lifestyle magazines in America,  Maxim (2.5 million rate base) and Stuff (1.3 million rate base). The company also publishes general interest music magazine Blender (Advertising Age's Launch of the Year and Adweek's Hot List), and The Week, a distillation of the week's most important news and opinion from the U.S. and international media (Advertising Age's A-List).  Maxim Radio is broadcast on Sirius Satellite Radio on channel 108. JMuzic , based in Pasadena, California, is an independent record label that specializes in signing and developing Latino talent for the U.S. bilingual market.
To listen to "Ghetto Mambo" by Peter Michael Escovedo from the "Maxim en Español Rockz!" soundtrack, scroll down on HispanicMPR.com until you see "Podcast" on the right hand side, then select "Ghetto Mambo," hit the play button or download it to your iPod or MP3 player to listen on the go, in your car or at home. To download it, click on the arrow of the recording you wish to copy and save to disk. The podcast will remain listed in the April 2006 section of the podcast.