Posted by Elena del Valle on January 31, 2006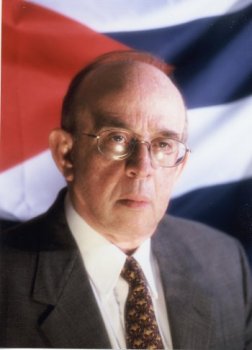 Jaime Suchlicki, Ph.D., editor of Cuban Affairs
Photo: University of Miami
Coral Gables, Florida – The Institute for Cuban and Cuban-American Studies (ICCAS) of the University of Miami recently launched Cuban Affairs, a quarterly, peer reviewed electronic journal which publishes articles on economic, political and social issues in contemporary Cuba. The journal will also publish book reviews and an updated chronology of events on the island. Editions will be published in January, April, July and October of every year for a subscription or membership price of $25 for individuals and $95 for institutions.
Jaime Suchlicki is editor of Cuban Affairs. Susel Pérez is assistant to the editor while Eric Diggs and Hans de Salas del Valle are assistant editors.  Juan del Aguila is book review editor, Kathy Hamman is copy editor and Eugene Pons is business manager.
One of the topics addressed in the first issue of Cuban Affairs is whether Americans should be allowed to travel to communist Cuba. The discussion is between the former chief of mission of the U.S. Interests Section in Havana, James Cason and William M. LeoGrande, dean of the School of Public Affairs at American University. In the point-counterpoint article on travel to Cuba, Cason writes that lifting the ban on Cuban travel at this time would send the wrong message.
"Unilaterally lifting the travel ban at this historical juncture, at the end of a failed experiment, in exchange for nothing would be a major waste of U.S. leverage," Cason wrote. LeoGrande, on the other hand, believes that the U.S. imposed ban on travel is "punishment for punishment sake" and does nothing to help promote democracy in Cuba.
Besides the pro-con debate on travel to Cuba, the English-language electronic journal's first edition carries articles on the Cuba/Venezuela connection, Cuba/China connection, Cuba's economic policy, and an analysis of Cuba after Castro by Brian Latell, former CIA director for Latin America and now a senior research associate at ICCAS.
Jaime Suchlicki is the Emilio Bacardi Moreau Distinguished Professor of History and International Studies and director of the Institute for Cuban and Cuban-American Studies (ICCAS) at the University of Miami.  He directs the Cuba Transition Project sponsored by the United States Agency for International Development. 
He was the founding executive director of the North-South Center at the University of Miami.  For the past decade he was also the editor of the Journal of Interamerican Studies and World Affairs.  He is the author of a dozen books on Cuba and Latin America.  His best-known books are Cuba: From Columbus to Castro, now in its fifth edition, and editor with Irving L. Horowitz of Cuban Communism, now in its eleventh edition.  He is also the author of Mexico: From Montezuma to the Fall of the PRI. Dr. Suchlicki is a consultant to the private and public sector on Cuba and Latin American affairs. Details about the new journal can be found at Cuban Affairs.