Posted by Elena del Valle on January 27, 2006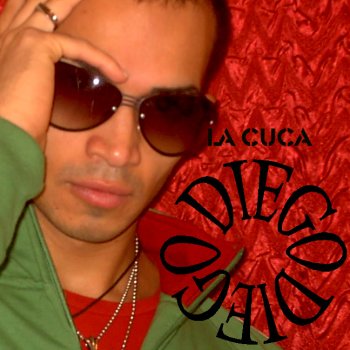 Diego Diego album cover
Diego Diego released a new reggaeton-pop single in Spanish, "La Cuca." The song, similar in style to his previous hit "La Gasolina," was written by Antonio Portillo and has a "very extroverted touch" baptized as the Diego-ton rhythm.
Award winning Diego Diego, said to have "charismatic style and boundless energy,"  is recognized as a leader in the creation of the new millennium sound. Diego Diego's professional career was launched with the television soap opera "La Culpa" directed by Pynkie Morris. This early experience motivated the young performer and inspired him to perfect his artistic skills and explore his potential talents. In competing for a role in a Disney Company production, he was chosen as one of only 60 candidates from a casting of more than five thousand applicants. He was one of three Latins selected to perform in this role at Disneyland in California.
His most recent CD "Quema Quema" (Spanish for Burn Burn) had many previously unpublished songs including: The Step/El Escalon, My Heart Weeps/Llora Mi Corazon, Burning Fire/Quema Quema,The Ay ay ay/Las Ay ay ay, Earth of Two/Tierra de dos, Adolescent/Adolecente, and I am Happy/Soy feliz. The new album has been popular throughout Central America, Mexico, and the United States, receiving significant radio air time. Diego Diego recently became a member of the Academy of Recording Artists. Diego Diego will release his second album entitled "Haciendo Escandalo" (Creating Scandal) dedicated to his close friend and collaborator, the performer Raul Vale.
 
"The best thing that can happen to an artist is the pleasure of entertaining while at the same time enabling others to achieve their own aspirations. Raul Vale taught me a lot of things, but the most valuable advice he gave me was when he said: 'Diego, you are nothing more or less than a scandal! Fight for what you want; you have my blessing,'" said Diego Diego. 
These words inspired Diego Diego to write his new hit single, "Blue Castle," a ballad that "transports the listener's imagination to a world full of happiness, love, and beauty of life." Diego Diego was born in Merida, in the state of Yucatan, Mexico where he grew up. He moved to the United States when he was in his teens and later became an U.S. citizen.  Now he lives in Hollywood, California. He says that in addition to the great strides he has made through his creative work, he is committed to helping others in the performing arts make their dreams reality. 
 
Although he sometimes sings "Ave Maria" in Latin at weddings, untile recently all his songs were in Spanish. In his upcoming new album "Haciendo Escandalo!" to be released in April/May of 2006, he includes two songs "I Go Loco" and "Let It Go" in Spanglish to make a slow crossover.  .
 
Recently Diego received an Honorary Doctorate in Classical Arts from Hispanic-American Public Radio . In 2001, he was recognized for his support of a music festival benefitting the victims of an earthquake in El Salvador, the Festival Musical A Beneficio de las Victimas del Terremoto de El Salvador, by Salvadorean Vice-President Carlos Quintanilla Smith. Last year, the Consulate of Guatemala thanked him for assistance to the Guatemalen victims of Hurricane Stan.  A LARAS & NARAS (Latin Grammy ) member, he was invited to walk the green carpet during the 6th Annual Latin Grammy Awards. More information is available at  Diego Diego
To listen to "La Cuca," Diego Diego's recently-released solo visit HispanicMPR.com and scroll down until you see "Podcasts." Select the files with the artist name and song title of your choice and click on the play button to listen to the songs online.