Posted by Elena del Valle on January 25, 2006
Jorge "El Travieso" Arce
Photo: TV Azteca 
Los Angeles, California – Azteca America will present three championship boxing events live from Cancun at 10 p.m. ET on Saturday, January 28, in one of the first major international events held in the beach resort since the devastating passing of HurricaneWilma. Jorge "El Travieso" Arce will face off against Adonis Rivas for the World Boxing Council, WBC, World Flyweight Championship; Jackie Nava, from Mexico,  will be putting on the gloves against Kelsie Jeffries, of the U.S., for the WBC World Super Bantamweight Women's title; and Rodel Mayol, from the Philippines, will face Mexican fighter Lorenzo Trejo for the WBC Strawweight Final Elimination Bout. Special invited guests include Julio César Chávez, Muhammad Ali, Laila Ali, Oscar de la Hoya, Sugar Ray Leonard, Mike Tyson and Tommy "The Hitman" Hearns.
Jorge Armando "Travieso" Arce was born in 1979 in Los Mochis, Sinaloa, Mexico. He made his professional debut in Tijuana in 1996. The 5′ 6½ boxer's record includes 46 official fights, 42 wins (32 by knock out), three losses and one draw. He has held the Interim WBC Flyweight title, the WBC Light Flyweight title, WBC Youth Flyweight title, the WBO NABO (North American Boxing Organization) Light Flyweight title, and the WBA Fedecentro Light Flyweight title amongst others. Travieso entered the entertainment world participating in a popular Reality TV show establishing himself as a young celebrity. Last December Arce fought Adonis Rivas and won when the referee stopped the fight on the tenth round. Adonis Antonio Rivas Ordoñez, born in Leon Nicaragua in 1972, has held 32 fights of which he has won 21 (10 by knock out), lost eight and drawn two. He has held the WBO Super Flyweight title, the WBO Latino Flyweight title and the Interim WBO Flyweight title as well as the WBC Fecarbox Bantamweight title.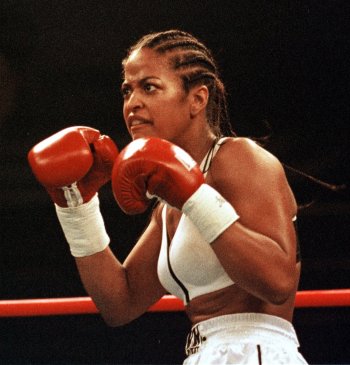 Boxer Laila Ali, event guest
Photo: TV Azteca
Jacqueline "Aztec Princess" Mouett Nava was born in Tijuana Mexico in 1980. She lives in Tijuana, trains in San Diego and fights as a boxer and kickboxer. She currently holds the WBA Female Bantamweight title and the WBC Female Super Bantamweight title. As a kickboxer she became the IKKC Female North American Muay Thai Featherweight champion. Her record shows 14 fights, 12 wins (eight by knock out), one loss and one draw. Kelsey "Road Warrior" Jeffrey was born in Gilroy California in 1975. At 13 she moved to Hawai where she became involved with kickboxing. She eventually became a champion and then switched to boxing. She started boxing as an amateur in 1994.  After coached boxing in Japan she returned to California and won the California Golden Gloves title from 1997 to 1999. Kelsey made her pro debut in 1999. Her record shows 41 fights with 33 wins (two by knock out) and eight losses.
Rodel "Batang Mandaue" Mayol was born in Mandaue City Philippines in 1981. His record shows 21 fights, 21 wins (16 by knock out), with no losses or draws. Lorenzo "Explosivo" Trejo, born in Ciudad Obregon Mexico in 1977, has a record of 36 fights, 24 wins (11 by knock out), 12 losses and no draws.
Azteca America, one of the fastest-growing Hispanic networks in the United States, is a wholly-owned subsidiary of TV Azteca S.A. de C.V., one of the two largest producers of Spanish language television content in the world. Azteca America has presence in more than 40 Hispanic markets, including: Los Angeles, New York, Miami, Houston, Chicago, Dallas, San Antonio, San Francisco-Oakland-San Jose, Phoenix, Brownsville-McAllen, Albuquerque, San Diego, Fresno-Visalia, Sacramento-Stockton-Modesto, Denver, Orlando, Austin, Tampa, Corpus Christi, Tucson, Las Vegas, Colorado Springs, Monterey-Salinas, Hartford, Salt Lake City, Bakersfield, West Palm Beach-Ft. Pierce, Santa Barbara, Palm Springs, Omaha, Amarillo, Yakima, Naples-Ft. Myers, Wichita, Reno, Boise, Victoria, Oklahoma City, Charleston and Chattanooga. For more information, visit Azteca America's website.