Posted by Elena del Valle on October 13, 2005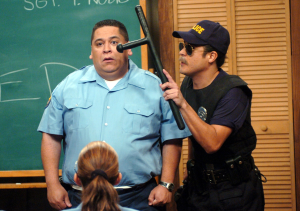 Ricky Garay as Sergeant T. Noble
and Charles Sanchez as a recruit in "Funny is Funny"
"Funny is Funny" Kicks Off Production of Premiere Season
Los Angeles (October 6, 2005) – Sí TV, an English-language Latino network, kicked off production recently of the premiere season of "Funny is Funny," the first all-Latino sketch comedy show. Thirteen episodes of the show will be produced before a live studio audience at Sí TV studios. "Funny is Funny," Sí TV's first fully scripted show, is slated to premiere on the network in Spring 2006.
"It's important for us to continue to discover new talent," said Jeff Valdez, Sí TV's chairman and co-founder. "For 'Funny is Funny' we've brought together a group of fresh talented actors to act in and write edgy, satirical sketches. I'm a true believer in exposing new talent, and these kids certainly have what it takes to be the next big thing."
Valdez will be executive producer. Other producers include Edward R. Leon, Sí TV's senior vice president of production, Dean Crescenzi ("America's Funniest Home Video"); and comedian/writer/producer Vic Dunlop. "Funny is Funny" hopes to feature fresh new faces of comedy as they combine cultural parodies with memorable reoccurring original characters to create a sketch comedy show that satirically addresses socio-political issues and cultural differences.
In addition to starring in the show, all the cast members are also writers on the show. Examples of skits include "Sister Joe," a skit about a nun who lives in the Vatican and aspires to be the Pope; "The Big Fat Giant Gigante Show" which pokes fun at Univision's sacred cow "Sabado Gigante," and "Chola the Urban Explorer" which takes a look at life from the view point of a 15-year-old Hispanic girl living in the inner city.
Producers hope to infuse the show with fresh characters and thought-provoking wit to make "Funny is Funny" a new kind of sketch comedy for "Generation Sí." The all-Latino cast is made up of seasoned comedians and performers including, brothers Joaquin Garay III and Ricky Garay, Angela Malhotra, Jonisha Rios, Charles Sanchez, and Jose Sonera as well as featured comic performers Gabbriella Gatto, Angel "Ace" Guillen, and Adam Jacobo.
Sí TV is an English-language, Latino network featuring hip and irreverent, culturally-relevant programming targeting the growing young Latino and multi-cultural TV audience. Voted by Multichannel News as one of the "Top 10 Next Networks," Sí TV reaches 10 million homes nationwide. The network has forged affiliation agreements with Comcast Cable, Time Warner Cable, Cox Communications, Adelphia and Grande Communications, while EchoStar's DISH Network features Sí TV as part of its "America's Top 120" package. Investors in the network include Time Warner Inc. (NYSE:  TWX), SYNCOM Funds, Columbia Capital, Rho Ventures, DND Capital Partners, Llano Partners, company co-founder Barshop Ventures and EchoStar Communications Corporation (NASDAQ: DISH). Co-founded and chaired by Jeff Valdez, who was recently named a "Top 10 Player" in Hispanic media by Ad Age Magazine, Sí TV was established in 1997 as a production company to develop, produce and distribute original English-language, Latino-themed entertainment. For more information, visit www.SiTV.com.