Posted by Elena del Valle on September 21, 2005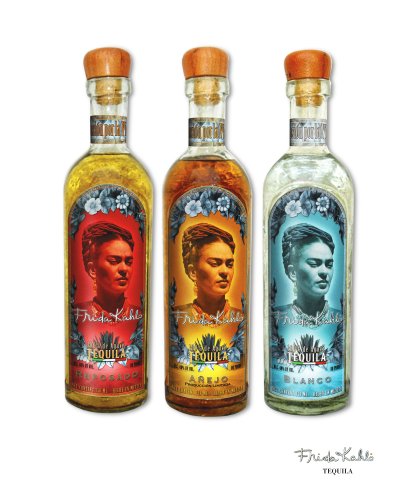 Frida Kahlo Tequila Bottles
New York, NY — (Market Wire) — 09/19/2005 — Pizzorni & Sons, LLC Importers, in cooperation with the Frida Kahlo family estate, is launching a new tequila named for famous Mexican artist and style icon Frida Kahlo, the Frida Kahlo Tequila. Frida Kahlo Tequila, made in Jesus Maria, in the highlands of Jalisco, Mexico from 100 percent pure blue agave,  will initially be launched in three U.S. markets, New York, Los Angeles, and Miami, and Mexico. The producers plan to expand marketing nationally in 2006. Frida Kaho Tequila, which will be sold at leading spirits shops and restaurants, will be available in three varieties: Blanco, Reposado, and Añejo.
Frida Kahlo Tequila Blanco, which will retail for $50, is fermented naturally for up to four days; the agave juices are then double-distilled in antique copper stills and bottled un-aged.  Frida Kahlo Tequila Reposado, which will retail for $65, is aged after fermentation in American Oak casks for six to nine months before bottling.  Frida Kahlo Tequila Añejo, which will retail for $90, is aged after fermentation in American Oak casks for at least three years before bottling. Southern Wines & Spirits will handle the U.S. distribution. 
"This tequila is superior to others because it is elaborated in small batches through a 100% natural, handcrafted and traditional process. We only use the finest quality blue agaves and natural ingredients," said Jorge Gutierrez, president of Dorado, Pizzorni & Sons, LLC.
"It has been an exciting adventure to develop and launch a product that would characterize my Aunt Frida: her love for Mexico, her strength and her passion for life. Tequila, her favorite drink, accompanied her in the greatest moments of her life," said Kahlo's niece, Isolda P. Kahlo. "While searching in the region of Jalisco it was a unique opportunity and a great challenge to obtain the right quality, taste and pureness that would match Frida's expectations. Always taking care of the finest details, Frida Kahlo Tequila is a Super Premium Tequila that my family and I proudly present to the world, at the level and quality of the tequilas that Frida would definitely expect from her favorite drink."