Posted by Elena del Valle on September 1, 2005
-More than 2,000 Latinas expected to celebrate Latina leadership at Phoenix Civic Plaza A Youth Leadership Conference will kick off two-day celebration-
PHOENIX, Ariz., Aug. 22, 2005 – The Hispanic Women's Corporation (HWC) is hosting the 20th National Hispanic Women's Conference in Phoenix, Ariz. Sept. 15-16, 2005 at the Phoenix Civic Plaza. The two-day conference is one of the largest gatherings of Latinas in the country expected to provide leadership and professional development to over 2,000 participants while raising money for college scholarships to benefit young Latinas.  There is also a youth leadership component to the conference.
This year's special guest speaker at the corporate luncheon on Friday, September 16, is Cristina Saralegui, host of Univision's "El Show de Cristina." She is a 30-year veteran journalist.  Myrka Dellanos, who returns to television soon on a new Univision national show, will make a guest appearance. For more than a decade she has been a top bilingual broadcast journalist. Special guests also include Jessica Mendoza, U.S. Olympic Gold Softball player, Anne Marie Tallman, President of the Mexican American Legal Defense Fund and youth keynote speaker Ret. Colonel Consuelo Castillo Kickbusch. During this luncheon, Raul Yzaguirre, past president of the National Council of La Raza, will receive a special recognition award.
"Latina Power: Legacies in Leadership is this year's theme; and celebrates our 20th anniversary and recognizes Latina leaders who have paved the way for all of us. We are extremely excited about hosting 400 high school youth this year," said Sonja Mazon-Rubalcava, the conference chairwoman. "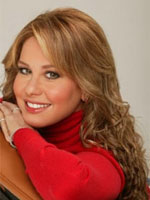 Special Guest Myrka Dellanos
The conference, which will highlight influential Latinas sharing their stories of success, will include an exhibitor pavilion to promote products and services.  There will also be a series of workshops and presenters on education, financial planning, parenting, voter outreach, careers, and literature.
Linda Mazon Gutierrez, president of the Hispanic Women's Corporation, is bringing in presenters from across the country to celebrate one of the largest gathering of Latinas across the country.  "Providing attendees and high school seniors the top line of nationally recognized speakers in best practices for business, law, education, health, and wealth-building seminars shows the strength this national conference delivers to Latina women," said Mazon Gutierrez. "The message we send to corporations, government and non-profits is that it is not enough to open the doors for Latinas.  It is expected that political leaders and corporate CEO's mentor and create pathways toward personal and financial success if we are to escape being paid the lowest wages on the earning spectrum.  Expanding math, science and entrepreneurial programs in the elementary schools is the beginning toward increasing earning and purchasing power for a lifetime.  The investment is great."
This year, more than 20 scholarships ranging from $1,000 to $3,000 to attend Arizona State University will be awarded to students. Incoming freshmen who apply for the HWC tuition waiver must have a 3.0 grade point average.  Sophomores, juniors and seniors or transferring students also must have a cumulative 3.0 average.  This year's scholarship winners will focus on engineering, health and sciences and will be recognized during Friday's corporate luncheon. Five scholarships will be awarded at the University of Arizona in partnership with Canyon Ranch Resort.
During the conference there will be a Latina art exhibit, fashion show and all-day Resume Review Station. Other workshops include:  financial management, education, political empowerment, business, health, domestic violence prevention, leadership skills, goal setting, entrepreneurial opportunities, parenting, time management and a salsa workshop.
Key sponsors for the conference include: APS, Bank of America, Arvizu Advertising & Promotions, Arizona Department of Health Services, Bashas' Food City, Blue Cross Blue Shield of Arizona, Canyon Ranch Resort, General Motors, Maricopa County Community College District, Qwest, Prensa Hispana, State Compensation Fund, State Farm Insurance Co., Univision, Wells Fargo and Wal-Mart Stores, Inc.
The Hispanic Women's Corporation, founded in 1981,  seeks to empower women through its commitment to the culture by promoting higher education, community involvement, professional advancement and leadership development for the improvement of Latinas' cultural quality of life.  For more information on HWC or to register for the conference, please visit www.hispanicwomen.org  or 602-954-7995.