Posted by Elena del Valle on August 19, 2005
Aterciopelados
Singled out by The New York Times for its support of the Latin Alternative Genre in a recent cover story entitled "Latinos Say Rock is More Than Just Reggaeton," LATV will air artist interviews and performances from the Latin Alternative Music Conference (LAMC) throughout August. Artists profiled and featured during the special espisodes of "LATV Live" include Coheed & Cambria, Aterciopelados, Javier Garcia, Plastilina Mosh, Natalia y La Forquetina, Sara Valenzuela, Los Amigos Invisibles, and JD Natasha.
The Los Angeles-based bilingual youth network LATV will bring on the rock in August with interviews, behind-the-scenes footage, and live performances from the recent Latin Alternative Music Conference (LAMC) in New York.  Singled out by a recent New York Times cover story as one of the leading outlets for the exposure of Latin rock in the United States, LATV has broadcast from the conference since 2001. 
"LATV has been an integral part of the Alternative Latin Music genre and continues to be a great outlet for this music" says conference co-founder Tomas Cookman
With its groundbreaking mix of English and Spanish language music and lifestyle programming, LATV has solidified itself as the leading network among bicultural Latinos in Los Angeles, America's top Hispanic market.  The Network's content is predominantly in English, targeting bilingual Latino youth.  Each week, LATV has a live in-studio audience.  LATV is the only network airing on basic cable in Los Angeles that reaches the highly sought-after bicultural demographic. 
LATV Live recently won an Imagen Award for Best Television Variety Special, beating out programming from networks like SiTV and Fox Deportes en Espanol.  The Awards, presented in 17 categories by the Imagen Foundation, were established in 1985 to encourage and recognize the positive portrayal of Latinos in all media, and to increase Latino representation at all levels of the entertainment industry.  LATV had the greatest presence of any network in the category, with nominations for both LATV Live and also Mex 2 The Max.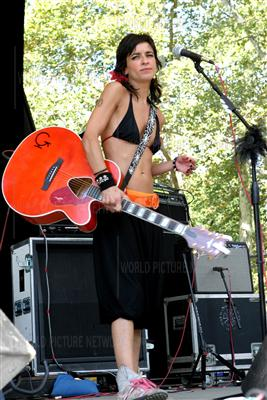 Bebe in Central Park