Posted by Elena del Valle on May 9, 2005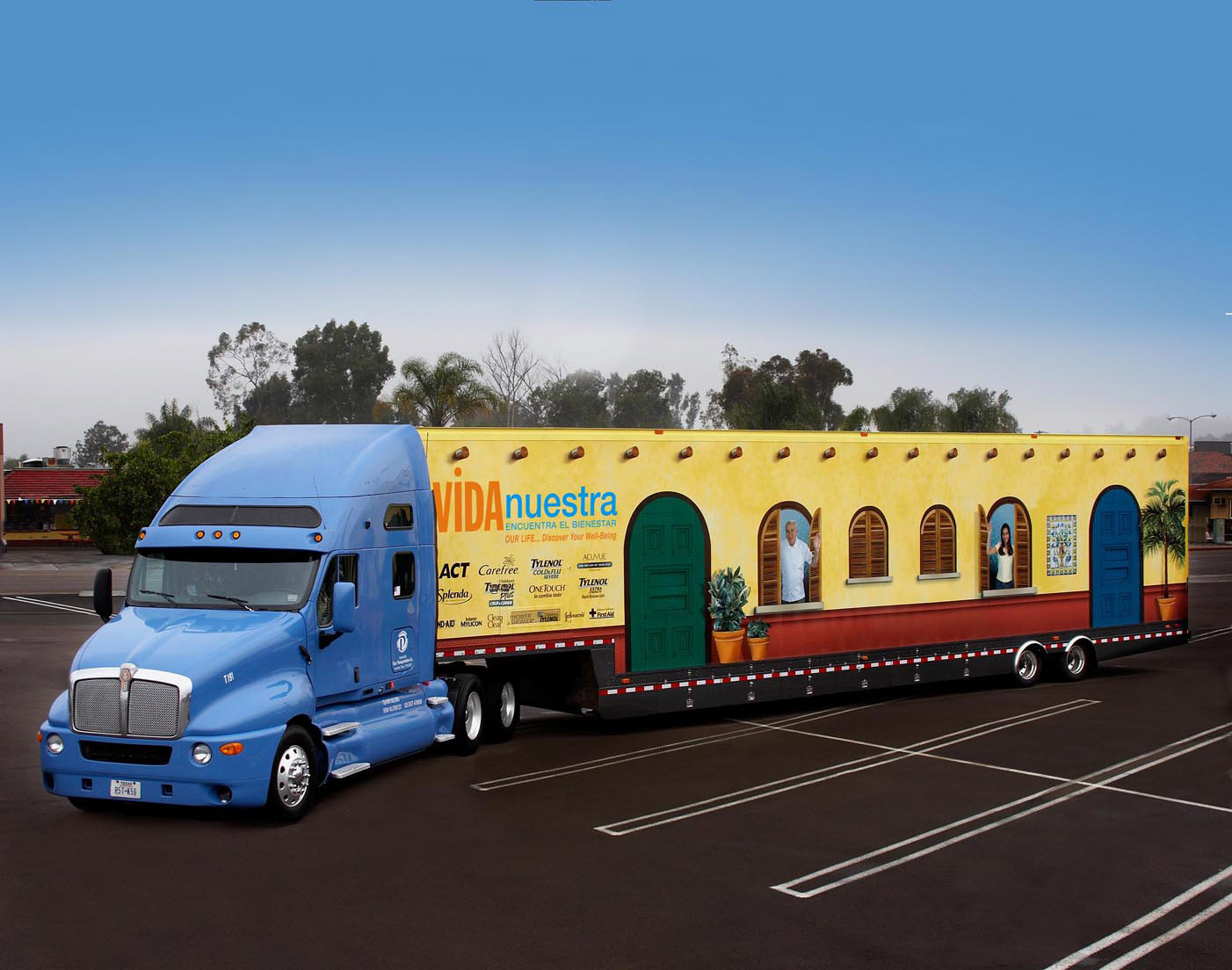 Vida Nuestra 53-foot trailer
Integration of 15 Brands into Hispanic Family Experience
Provides Foundation of Mobile Event Marketing Tour
San Diego, April, 2005 – As part of it's mission  to help contribute to
and encourage the health and well-being of the U.S. Hispanic market, a
unique culturally relevant, bilingual educational experience is being
delivered to Hispanic consumers nationwide.
Launched in Miami in March and running through mid-October, the
multi-faceted interactive grassroots mobile marketing program will visit
key Wal*Mart stores and major Hispanic events throughout the U.S. The
program enables consumers to tour an interactive Latino family home,
participate in free health assessments, and receive a free bilingual
magazine and product samples. Accompanying the tour are a team of 7
trained Brand Ambassadors who are available to interact with consumers
and deliver key messages in Spanish and English.
The program created by San Diego based AIM – Alternative & Innovative
Marketing, will enable consumers to discover more about their health,
wellness and available healthcare products through an interactive self
discovery experience. The tour takes place in what appears to be a
"Placita", a neighborhood environment typical in Latina America, where
the consumer will get to walk through the "home" of the Bueno Family,
featured within a 53 foot trailer adorned with an eye-catching facade.
Consumers are led through the Vida Nuestra experience from the
perspective of Sofía, the teenage daughter of the Bueno Family who
educates consumers about the featured brands by showing how they help
her family. She leads consumers through the interior of her family's
home, which has been designed in a "maze-like" manner that requires
participants to physically go into each room for a brand interaction.
Upon exiting the Bueno Family home experience, consumers enter the
self-discovery area of the tour, where they can participate in numerous
health assessments, including body mass index, diabetes risk assessment
and blood pressure screening. As consumers conclude the Vida Nuestra experience, they receive a free
custom bilingual health magazine with accompanying product samples and
literature delivered in a poly-bag.