Posted by Elena del Valle on February 28, 2005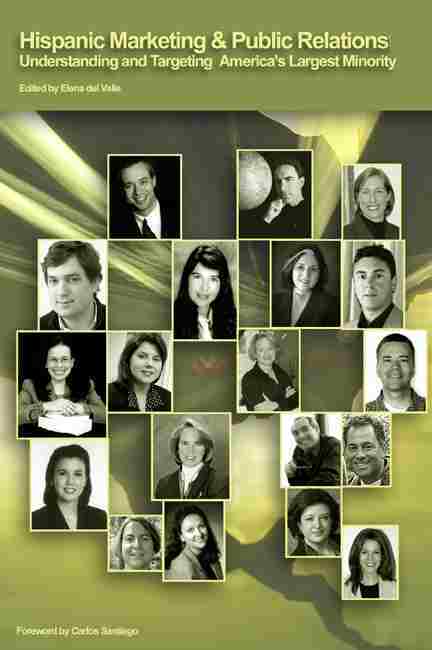 Cover design by Cris Ascunce Catgraphix 
Are You Getting Your Share of U.S.Hispanic Markets?
What
Hispanic Marketing & Public Relations, a soon to be published book for marketing professionals andstudents
Who:
 Latino market experts including:
Derene Allen, Senior Vice President, Santiago Solutions Group

Jonathan R. Ashton, vice president,  Quantitative Research, Cultural Access Group

Deborah Charnes Vallejo,  managing director, Bromley/Manning Selvage & Lee

Christine Clavijo-Kish, partner, LatinClips Inc.

Elena del Valle, principal, LNA World Communications

Hidekel Eusebio, vice president, Diversity Solutions Group Edelman

Madalyn Friedman, associate consultant, Santiago Solutions Group

Miguel Gomez Winebrenner, senior analyst and Hispanic marketing specialist, C&R Research

David Henry, president, TeleNoticias

Richard Israel, vice president,  Hispanic Marketing Solutions comScore Media Metrix
Tony Malaghan, chief executive officer, Arial International
Cynthia Nelson Chief Operations Officer TodoBebé™, Inc.
Dalia Paratore Salazar, partner, LatinClips Inc.
Diana Rios, Ph.D., associate professor, Department of Communication Sciences, University of Connecticut
Claudia Santa Cruz, president, Santa Cruz Communications Inc.
Roger Selbert, Ph.D., principal, The Growth Strategies Group

Federico Subervi, Ph.D., director, Latinos and Media Project

Dora Tovar, M.P.A., president and managing parter, The Tovar Manriquez Group
Michele Valdovinos, research director, Cultural Access Group
Foreword by Carlos Santiago, President & CEO Santiago Solutions Group
Endorsed:
Hispanic Marketing & Communication Association
Hispanic PR Wire
National Multicultural Professional Interest Section, Public Relations Society of America
Portada
Ralph McElroy Translation Company
St. Thomas Univesity Department of Business Administration
Valassis
Walters Media Group Inc./Carmen's Cupones y Consejos
Hispanic Marketing & Public Relations: Understanding and Targeting America's Largest Minority.
To receive prepublication information and special offers sign up by email at promotion@poyeen.com
Be among the first to own a copy. Order directly from the publisher and receive complimentary media mail shipping in the U.S.