Posted by Elena del Valle on April 22, 2010
Information provided by our Event Partner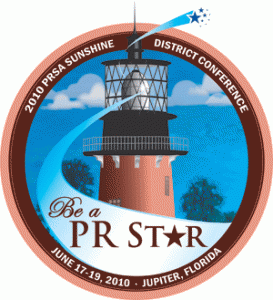 Pack your business cards and bathing suits and get ready to Be a PR Star!
The 2010 Sunshine District Conference is just around the corner. Register Today!!
Conference attendees will learn today's premier communications techniques from leaders in the profession while getting a taste of the Palm Beach's rich history and culture. Workshops will focus on a variety of topics, including advancements in social media, crisis communications, ethics and law, web marketing, and earning your accreditation.
If you want to stroll on the beach while learning the best skills, then Be a PR STAR at the 2010 PRSA Sunshine District Conference.
WHEN: Thursday-Saturday, June 17-19, 2010
WHERE: Right on the beach – at the Jupiter Beach Resort & Spa, Jupiter, Fla.
WHY: Situated along one of the richest coastlines in the country, Jupiter is steep in history from the pirates of the 1700s to the local celebrities who call it their home. You'll be steps away from the shoreline and the treasures of the ocean while learning from nationally-renown speakers and experts in the profession.
Attendees: The PRSA Sunshine District Conference is hosted annually by one of the District's seven chapters. Though hosted by a PRSA chapter, membership is not required to attend, and in fact, conferences typically include representation from numerous communications groups, including IABC, FPRA, AIGA, and Ad Federations. Approximately 125 to 150 public relations professionals are expected to attend.
Visit http://prsapalmbeach.org/meetinginfo.php?id=5