Posted by Elena del Valle on March 20, 2007
Fredrik de Wahl, CEO, Joost
Photo: Joost™
New York, New York – Voy and Joost™ recently announced a partnership in which Voy will deliver branded channels, including a slate of fresh Latin programming, via Joost's global distribution platform. Voy promises to deliver a variety of programming created by award-winning Latino producers from the U.S. and Latin America. The programming will include short films, magazine shows and TV series.
"Voy is proud to join forces with Joost on their global venture. Together we seek to serve the Latino community and those interested in Latin culture with great programming delivered in an innovative way that reflects today's consumers," said Fernando Espuelas, founder and CEO of Voy. "Latinos are the foremost consumers of technology and media in the U.S. With Joost, we connect this sophisticated audience with relevant content on a leading edge platform that has natural appeal to Voy's global audience."
"We are partnering with Voy to deliver programming that is relevant to Latino viewers, and others interested in Latin culture," said Fredrik de Wahl, chief executive officer of Joost. "Voy will provide Joost viewers with unique and engaging programming in a broad array of genres."
Joost, still in beta, provides an innovative platform combining television and Internet features. Though only available to the public by invitation, the free service promises access through a secure, peer-to-peer streaming technology service reached through broadband Internet.
The Voy channels on Joost will include: "Voy Filmmaker Showcase" offering short films, music videos and commercials made by Latinos or featuring Latinos; "LatinEyes," a magazine style program highlighting Latin culture in the United States and abroad;"Voy to Hollywood" has celebrity interviews, featurettes and behind-the-scenes news on movies and shows of interest to Latinos; "Hola America!," a news magazine focused on Latino personalities making an impact in the United States; "LowLos," a weekly show dedicated to Lowriders and the Lowriding culture, lifestyle; "(IN)Pulse," described as a Voy original hosted entertainment weekly show with a Latino twist.
Voy is a digital media company offering culturally relevant entertainment to English-speaking Latinos and those discovering Latin culture. Voy executives strive to connect the brand with its audience through various emerging and traditional distribution vehicles such as broadband, wireless connecitivy, broadcasting and DVDs. 
Joost is a combination of online features and television style programming. It is based on a state-of-the-art, secure, peer-to-peer streaming technology that provides full-screen television entertainment with online interactivity without requiring downloads. 
---
Reach Hispanics online today with
"Marketing to Hispanics Online" audio recording
Identifying and characterizing the booming Hispanic online market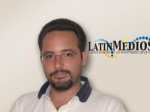 Joel Bary, Alex Carvallo and Matias Perel
Click here to purchase a recording with a presentation on marketing to Hispanics online by Joel Bary and interviews with Joel Bary, Alex Carvallo and Matias Perel
---