Posted by Elena del Valle on July 14, 2006
Jorge Hernandez of Los Tigres del Norte, performing at a concert in Culicán, Sinaloa, Mexico, as seen in "Al Otro Lado"
Photos: Courtesy of "Al Otro Lado"
Director Natalia Almada chronicles the conflicts involving the United States-Mexico border in the documentary "Al Otro Lado" (Spanish for "To The Other Side"), airing on Tuesday, August 1 as part of public television's (PBS) Point of View (P.O.V.) series. The documentary is seen through the perspective of Magdiel, a 23-year-old fourth–generation fisherman and aspiring composer who gets involved in drug trafficking and illegal border crossing while seeking the "American Dream" and supporting his family through Mexico's economic crisis.
"We look at issues through Magdiel's experience on economic decisions because he can't support his family. In U.S., people look at moral decisions but not on economics in the region of Mexico," said Almada. "There is injustice with people dying in the border and films look at (an) intimate portrait of someone making decisions for family in (an) intimate way. I don't think a lot of people recognize this and they look at numbers."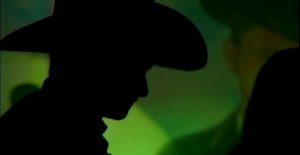 Man at Los Angeles club, as seen in "Al Otro Lado"
In, "Al Otro Lado," poor fishing practices and global demands in Magdiel's hometown, Sinaloa, propel him to become involved as a drug trafficker for his friends and to cross the border illegally to the United States. The documentary uses the Mexican tradition of Corrido music, which is  compared to ganster rap in content and lyrics, to aid in telling the film's conflict with drug trafficking.
 
"Al Otro Lado" was selected as part of the Tribeca Film Festival's "All Access Program," and had a week-long run at the Museum of Modern Art in 2006. It has received the following awards: New York International Latino Film Festival's Cultural Voice Award in 2005;  Puerto Rico International Film Festival's Best Documentary in 2005; and CineFestival's Best Feature Film in 2005.
Almada has won awards at the Tribeca and Chicago International Film Festivals.  She received a master of fine arts degree from the Rhode Island School of Design. This is her first documentary series.
P.O.V., in its 19th season on PBS, airs Tuesdays at 10 p.m., from June through October. More information about P.O.V is available online at PBS.org  — Sergio Carmona