Posted by Elena del Valle on December 16, 2011
Emanuel Andren's Monte Enebro chocolate
Photo: Emanuel Andren, Mars, Elizabeth Arden, Edward Marc Chocolatier
More consumers (13 percent) regard cell phones as appropriate gifts for children ages 6 to 11, up from 4 percent earlier this year. About one in three (32 percent) shoppers expect stores to offer boxes although at the same time 21 percent of survey takers said they don't bother with wrapping paper relying instead on gift bags. More than 20 percent prefer to browse the stores then shop online to save money. A similar number say they plan to reduce the number of people they gift. These estimates are based on the 25 Stocking Stuffers from Mintel, Holiday Shopping U.S. July 2011 and Seasonal Chocolate U.S. August 2011 Mintel survey reports.
On the positive front, 27 percent of survey respondents said that when they shop for the holidays, they often buy something for themselves. Christmas decorations and cards remain popular; 42 percent of survey takers said they bought Christmas decorations in the past year while 64 percent bought a Christmas card and 67 percent received one in the past year. Even pets were involved; 11 percent of respondents said pets sent a card or gift.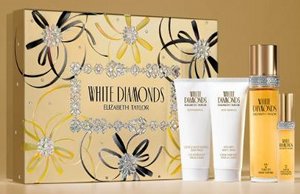 White Diamonds Elizabeth Taylor Holiday Gift Set, for those who wish to wear or gift the top selling celebrity fragrance
Many (29 percent) of domestic consumers said they bought someone a fragrance and 28 percent bought candles for Christmas. That's not surprising since winter holidays have been the high season for fragrance sales in past years, according to Mintel.
Celebrity endorsed fragrances are among the most popular, according to a Forbes.com April 2011 article (Top-Selling Celebrity Perfumes by Dorothy Pomerantz). Elizabeth Arden sold $54 million worth of White Diamonds by Elizabeth Taylor in the United States last year. The perfume, according to the article, has been a favorite of the public since it was launched in 1991. Other notables peddling fragrances with success, includes Derek Jeter (Driven), Beyoncé (Heat), P. Diddy's Sean John (Unforgivable), Sarah Jessica Parker (NYC), Jessica Simpson (Fancy) and Gwen Stefani (Harajuku Lovers).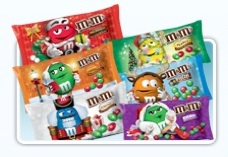 MMs packaging for 2011 end of year holidays
Entertaining, vacations, cooking, chocolates and alcoholic beverages during the holidays remain popular; 18 percent of Mintel survey respondents said they "absolutely have to entertain guests for the holidays." Almost one of every four Americans said they take time off for the end of year holidays, making Christmas like holidays the second most popular family vacation.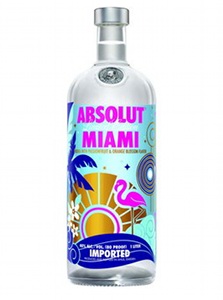 Absolut Miami, a passion fruit and orange blossom flavored vodka, was launched in time for the holidays
Winter holidays motivate 58 percent of Americans to cook gourmet or elaborate meals requiring three or more hours to prepare. Americans are most likely to buy alcoholic beverages for New Year's Eve (37 percent) and Christmas (28 percent), according to survey responses.
In the last year, 61 percent of survey takers bought chocolate in seasonal packaging. Blacks and Hispanics, the two largest emerging markets, have the highest average spending on seasonal candy of any race or ethnicity. This may explain why "Christmas chocolate" sales are forecast to peak in 2011, surpassing $400 million in sales, an increase of 42 percent, according to Mintel researchers.
Chocolate sellers offer special products for the season. For example, Swedish gourmet chocolate maker Emanuel Andren announced a line of 2011 holiday gift guide specials including the Passion and Glamour chocolate collection. The collection retails at $69 (regular price $98) for a four four piece box and $230 (regular price $328) for the 16 piece box between November 1 to December 31, 2011. Made in Sweden, these chocolates are all individually handmade by Emanuel Andren himself, according to a press release.
"We have seen the demand grow for chocolates more than ever before. Right now instead of buying big luxury items people are able to spend a reasonable amount on chocolate and have a beautiful gift. We say that our chocolates are an affordable luxury," said Chris Edwards, chief marketing and development officer, Edward Marc Chocolatier, a Pennsylvania based chocolate seller with brick and mortar and online shops.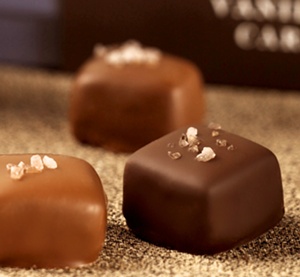 Edward Marc Chocolatier Vanilla Salt Caramel
Edward Marc seasonal items such as Holiday Pops, Chocolate Santas and Pretzel Bites (broken pretzels pieces covered in milk, dark, white and peanut butter) are very popular in the company's retails stores while the most popular gift item is the Tower of Sweets which includes Vanilla Salt Caramel or Pecan Caramel Terrapins, also the most popular year round. Most sales are in the retail stores, three in Pennsylvania and one in Virginia.