Posted by Elena del Valle on April 27, 2007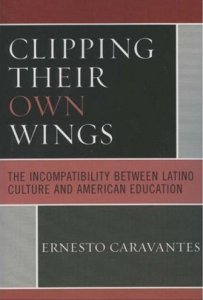 Clipping Their Own Wings book cover
Photo: Ernesto Caravantes
Los Angeles, California – Author Ernesto Caravantes defies conventional wisdom, shattering notions that Latino underachievement is due exclusively to under funded schools and overcrowded classrooms, coupled with socioeconomic disadvantages common to Latinos in a new book, Clipping Their Own Wings (Hamilton Books, $22). Instead of focusing on outside factors, Caravantes tackles one of the nation's most troubling trends and toughest social problems, Latino underachievement. He focuses on Latino culture as the root of the problem.
Although Latinos are the largest minority market in the United States, according to Caravantes, for the past 40 years, the average number of Hispanic high-school dropouts has been more than twice what it has been for African Americans. He believes this is the result of the identity politics of educators, policymakers and other influencers. In spite decision maker's good intentions, their attempts to empower Latinos with Chicano studies and bilingual education have been unsuccessful. Caravantes argues that Latinos are contributing to their own oppression by stubbornly refusing to learn English and devaluing the importance of education.
"Hispanics are lagging behind as a result of ignorantly and stubbornly adhering to cultural aspects that do not place education at the top of its values hierarchy and instead, are clipping their own wings by refusing to assimilate into the American educational system," said Caravantes. "Unless Latinos rethink these values and consider change, no amount of money, books or happy talk will make a dent in the problem."
Caravantes, a native of Los Angeles, is the only son of Mexican immigrants. He is an instructor of culinary history and psychology at the California School of Culinary Arts, Pasadena, California. Prior to that, he was host of "Dialog," a cable television talk show in Glendale, California. He received a Bachelor of Arts in psychology from California State University, Long Beach, California and a Master of Science degree in counseling from the University of La Verne.
---
  Click here to purchase Clipping Their Own Wings 
---